A Guide to New Hampshire Farmstands
Where and how to shop the state's healthiest harvests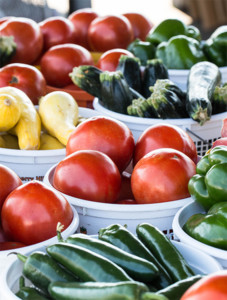 Fresh, local, lovingly produced: These terms associated with healthy food also characterize the bounty of the local farmstand. Even a cider doughnut, you'd have to think, is a healthier creation when munched out in the fresh air while deciding what veggies to steam with supper. Along with a variety of apples for your one-a-day-keeps-the-doctor-away regimen, Lull Farm in Hollis has it all at harvest time — fields of ripening pumpkins and a farm store that is more like an artisan food market than a farmstand. Peruse the impressive artisanal cheese case, shop for specialty foods including artisan salts, local ice cream and bulk olive oil or stop by the freezer case to pick up Lull's own chicken and beef. Fresh fruits and vegetables that are not grown on the farm are supplied by trusted producers. The greens mix with edible flowers is a must.
Made-in-the-kitchen specialties feature homemade soups and meals, while bakery favorites include French baguettes, breakfast pastries, cider donuts and, of course, apple and other fruit pies.
If you just can't get enough apple in your life, you can also purchase Lull's applesauce, apple strudel and apple butter.
Saturday visitors will be treated to real Jamaican jerk chicken, seasoned for the BBQ grill by Jamaican employee Shaggy. The chicken he uses is raised right on the farm — it doesn't get much fresher than that. Owner and farmer Dave Orde travels to Jamaica once a year to reunite with workers' families who, over the past two decades, have become friends. It's thanks to their labors that the vast and verdant fields are harvested on time.
Chicken and other delights aside, apples are the star of the season — and happily it's been a good year for this fall favorite. Each variety has its own ripening schedule, but early September is prime picking season. Find the usual suspects such as Macouns and McIntosh, but also Snow, SnowSweet and Crimson Crisp as well. All types are clearly marked for their best uses, from sauce to pie to eating out of hand. Eat one fresh from the tree and refrigerate the rest for the best keeping. Later varieties store the best, including Rome, Baldwin, Empire and Honeycrisp.
---
More Farmstands
Barrett Hill Farm
450 Fitchburg Road (Intersection of Routes 31 and 124), Mason
Open daily from June through the end of September, 9 a.m.-7 p.m.
Selling farm-grown meats, vegetables, fruit and more.
Brookside Farm
8 Mammoth Rd., Pelham
Open 10 a.m.-6 p.m. daily from May through October
Stop in for everything from produce to freshly baked pie and their specialty item — mac and cheese.
Coppal House Farm
118 North River Rd., Lee
Farmstand is open year-round from 10 a.m.-5 p.m. daily.
Find the farm's own produce, meats, eggs and more. Visit the website to see what's available. While you're there, see if you can solve the corn maze.
Devriendt Farm
178 S. Mast St., Goffstown
Open daily from 9 a.m.-7 p.m.
They sell their own vegetables, herbs, fruits, pumpkins and more, plus McDougall Farm beef, maple products from Grant Family Pond View Sugar House and farm-fresh eggs from the Grant Family Farm in Weare.
Heron Pond Farm
299 Main Ave., South Hampton
Open year-round. Summer hours are 9 a.m.-6 p.m. until Thanksgiving.
The farm's vegetables are available all year long. Also selling local meats, eggs, dairy products and much more. Visit the website to see what's available.
LaValley Farms
1801 Hooksett Road, Hooksett
Open daily from late April through December.
The main farmstand in Hooksett features LaValley's homegrown produce (corn, zucchini, tomatoes, cucumbers, squash, carrots and much more) as well as meat, honey, ice cream and milk from local farms. There are also satellite farmstands located at the Massabesic Traffic Circle in Manchester and the Everett Arena in Concord.
Manning Hill Farm
79 Old Manning Hill Rd., Winchester
Open Monday-Saturday until 7 p.m.; closed Sunday. Opening hours differ —see the website for details.
Purchase "gently pasteurized" milk plus pasture-raised, grass-fed beef, pork, chicken and eggs.
Miles Smith Farm
56 Whitehouse Rd., Loudon
The store is open year-round Wednesday-Saturday. Hours depend on the season, so check the website.
Located right at the center of the farm, they offer beef, pork, lamb, rabbit, turkey and chicken. Other local products can include produce, milk, eggs, baked goods and more.
Moulton Farm
18 Quarry Rd., Meredith
The farm market is open from early April through December.
The market is stocked with veggies, fruits, meats, cheeses, dairy and baked goods. The farm is also home to Cider Bellies, which gets our stamp of approval for seriously delicious apple cider donuts.
Picnic Rock Farms
85 DW Hwy., Meredith
Open 9 a.m.-6 p.m.
Beautiful farmstand that specializes in fresh fruits and vegetables, jams and jellies, NH-made products such as salsas, Christmas trees (in season) and more
Remick Country Doctor Museum & Farm
58 Cleveland Hill Rd., Tamworth
The museum store also sells the farm's own grass-fed beef, pork and lamb, plus eggs, maple syrup and more.
Spring Ledge Farm
37 Main St., New London
Open daily; hours vary
The stand is stocked with their own fruits, plants and vegetables plus many other local food items.
Surowiec Farms
53 Perley Hill Rd., Sanbornton
Open daily from May through October.
Find local produce and flowers in the summer and come back for PYO apples in the fall and Christmas trees in December.
Work Song Farm
Beech Hill Road, Hopkinton
Pick up fresh vegetables at the farmstand and then take the kids to visit with the farm animals or take a walk through the corn maze.
Find even more farm stores around the state at agriculture.nh.gov.
Comments
comments