Travel Eats With Aaron Perry
Social media Jedi and photographer Aaron Perry shares his favorite places to eat along Main Street in Littleton
*Sponsored content
The dish: Burger
Where to find it: The Beal House, 2 W. Main St., Littleton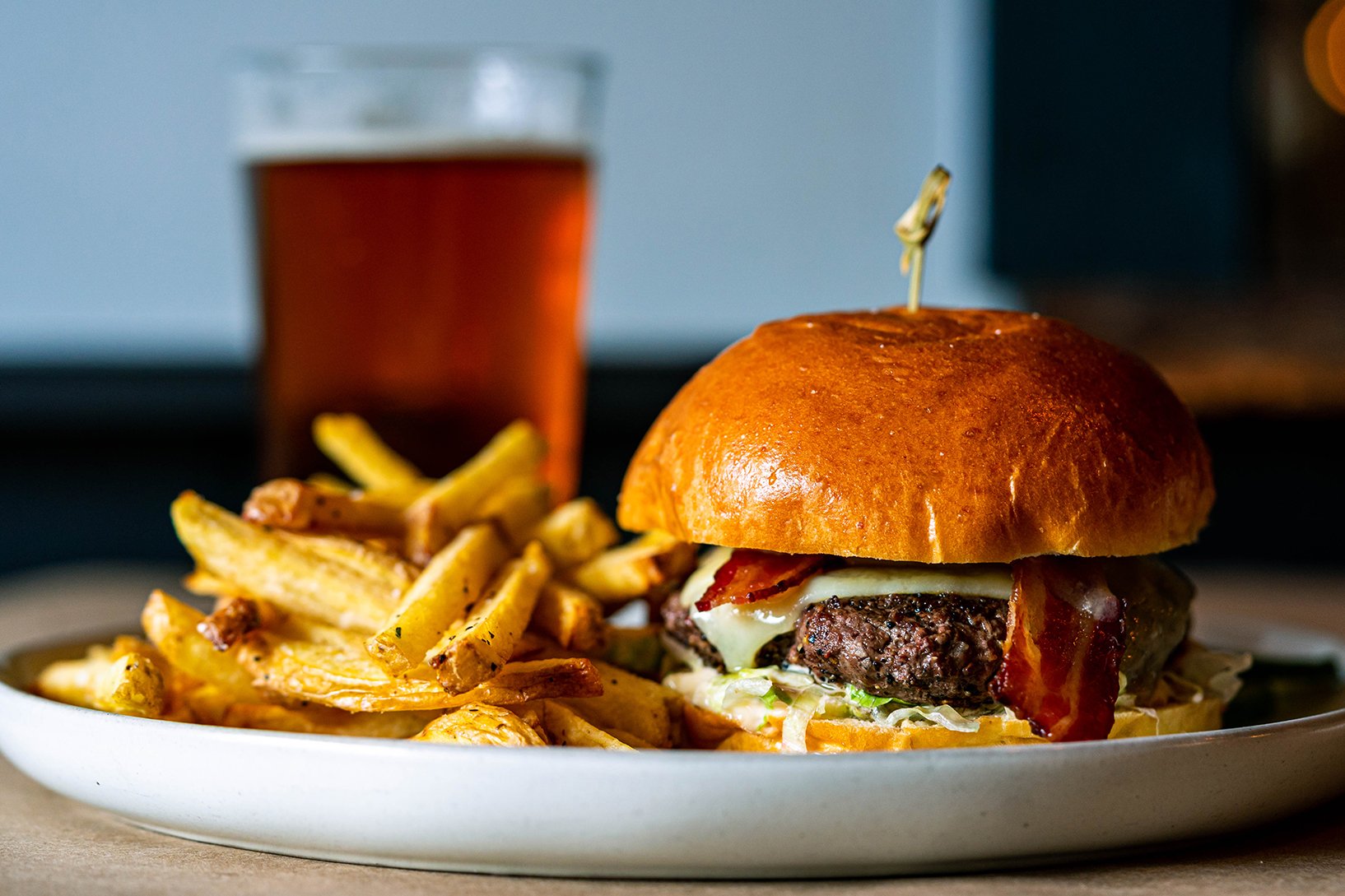 Located just off historic Main Street in Littleton is the cozy and rustic Beal House Tavern. Nominated for the James Beard Rising Star Chef of the Year in 2008, chef and owner Adam Alderin does not disappoint. One bite of the burger and you'll understand why he was nominated. It's topped with Vermont cheddar, bacon and a homemade chive bacon mayo that will kick you right in the taste buds. If that isn't enough, it comes with a side of addictively delicious hand-cut fries!
---
The Dish: POP-Rock Golden Chocolate Cake
Where to find it: Crumb Bar, 97 Main St., Littleton
Chef and operator of Crumb Bar Kaylee Klein doesn't hold back when it comes to her homemade, whimsical treats, and nothing embodies this more than the POP-Rock Golden Chocolate Cake. Nestled in the flakey, butter piecrust is a decadent scoop of chocolate fudge topped with shimmering gold "pop rock" chocolate chunks and caramel corn. To quote Kaylee, "Everything is made from scratch and baked fresh daily, and nothing is low fat. Sorry not sorry." And to quote myself, "Try this! You will not be sorry!"
---
The dish: Maple Bacon Doughnut
Where to find it: The Doughnut Cellar, 21 Mill St., Littleton, (603) 575-5185
In New England, where we seem to have a corporate doughnut chain on every corner, it was a refreshing change of pace to walk into Matt Simon's open kitchen, boutique doughnut shop The Doughnut Cellar. Located in Littleton's trendy River District, you'll find delicious doughnut creations ranging from the expected to extremely unique and everything in between. The maple bacon doughnut has a combination of a sweet maple glaze with the salty crunch of bacon on a pillowy doughnut. With over 20 different flavors to choose from, there is plenty to keep you drooling!
---
The dish: Cheese Slate and Pizza
Schilling Beer Company in Littleton may be known for their European-inspired beers, but the brewpub across the street should not be overlooked. The first thing you notice when walking in to the warm and inviting pub is the familiar smell of a wood-fired pizza oven. Before the pizza and beer, I opted to start with the artisan cheese and meat slate, which is served with locally cured meats, salmon pâté, roasted almonds and two warm, salty, fresh-baked pretzel twists.
---
The dish: Rock and Roll Sushi
Where to find it: Chang Thai Café, 77 Main St., Littleton

If you know the New Hampshire food scene, then award-winning Chef Emshika Alberini needs no introduction. Her restaurant, Chang Thai Café, located in the heart of Littleton, New Hampshire, blends the best of traditional Thai cuisine with a dash of contemporary flair. Without sounding redundant, her Rock and Roll sushi roll rocks! It's a fresh twist on a tuna and avocado tempura roll, topped with spicy mayo that could go toe-to-toe with well-known sushi establishments you'd find in New York City, Boston or California.
---
Bonus dish: Roast Beef Sandwich and Scone
Where to find it: Art in the Age Café, 85 Main St., Tamworth

Snuggled in the quaint town center of Tamworth is the Art in the Age Café. Here you will find the mouthwatering, tender, perfectly rare roast beef sandwich. Locally sourced, slow roasted for hours, and served between two slices of amazing, extremely unique Distiller's Bread. Don't forget to save room for a scratch-made scone and a Frontside Roasters coffee.
---
About the author: Aaron Perry is the social media Jedi and photographer for Aerosmith, Joe Perry and The Hollywood Vampires. When not out traveling the globe, you can find him in his kitchen cooking or in his backyard at the BBQ smoking up a killer brisket. Aaron spent a lot of time during his childhood in New Hampshire's Lake Sunapee Region, where he developed his enthusiasm for cooking with family and friends. He's a self-proclaimed goofball and foodie who loves to travel the Granite State, and share his passion for great food and amazing local restaurants.