Stay Connected
Starve off loneliness, boost physical and mental health with social interactions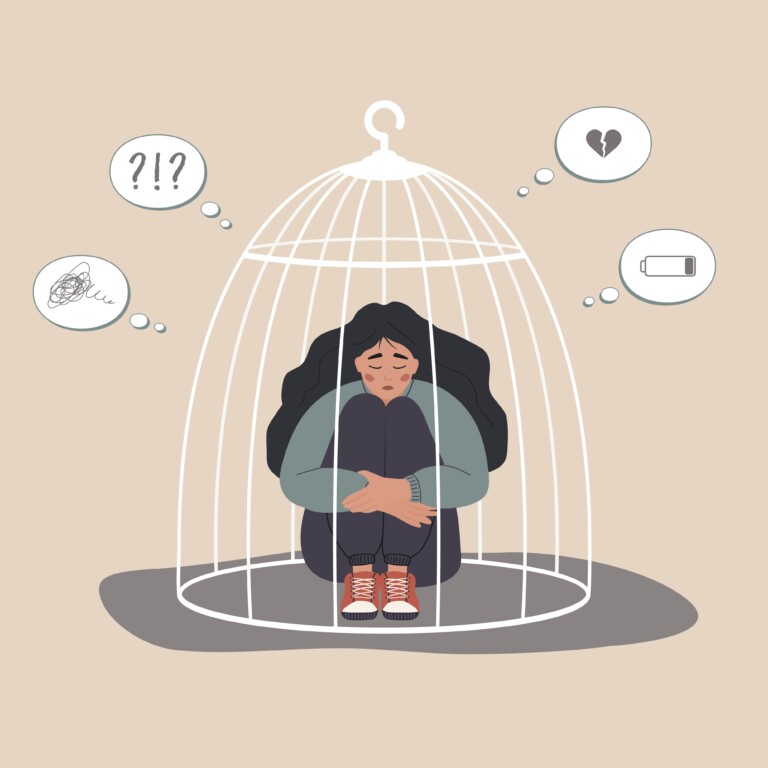 George Scholl, 74, of Keene, has spent the past seven years helping answer visitors' questions at the information desk at Cheshire Medical Center, a Dartmouth Health member.
The role suits his outgoing personality. After retiring from a 40-year management career in the medical device industry, he wanted to find a way to feel useful again. Settled in a new condominium and newly divorced, he decided to explore volunteer opportunities.
"Working as a volunteer has been a lifesaver for me, because I don't know how the loneliness would have affected me in the long run had I not sought volunteerism with both organizations," Scholl says. "I feel like a Jekyll and Hyde in that my personality changes when I get to the hospital, and I am upbeat, cheerful and interactive with all the people I come into contact with. When I return to my condominium, I can feel the loneliness, but it is much less because of my volunteer jobs and the social aspects they provide me."
Loneliness profoundly affects individuals' mental and physical health, both in New Hampshire and across the country. In May 2023, United States Surgeon General Dr. Vivek Murthy released a report calling attention to the public health crisis of social isolation and lack of connection across the United States.
Even before the onset of the pandemic, almost half of U.S. adults reported experiencing degrees of loneliness. The report states that the consequences of social isolation include a 29% increased risk of heart disease, a 32% increased risk of stroke and a 50% increased risk of developing dementia for older adults. The report states that a lack of social connection increases the risk of premature death by more than 60%.
Dr. Masooma Athar, medical director and section chief in the Department of Geriatrics at Elliot Senior Health, says she sees how loneliness affects her patients. Those with more active social lives — who belong to church groups, senior centers, exercise programs or are involved in their assisted living communities — fare much better than their socially isolated counterparts.
Particularly following the COVID isolation period, Athar says she noticed that many of her patients' cognition had declined, or they were having more difficulty managing their medications. Patients also experienced more anxiety and challenges with mobility.
She says that families might not notice that their loved ones aren't getting enough social interaction if they only talk to them once in a while or see them briefly. However, there are some warning signs, including:
Depression
Forgetfulness
Difficulty with self-care (hygiene, etc.)
Challenges with mobility
Withdrawal from activities
Difficulty interacting with other people
Quality Connections Matter
Dr. Fuad Khan, a general psychiatrist overseeing behavioral and community health at Wentworth-Douglass Hospital, part of Massachusetts General Brigham, agrees with Athar that the pandemic has exacerbated social isolation in the older population and among young people. Once COVID restrictions were lifted, most expected that people would rebound socially, but this has not been the case, Khan says.
"It actually hasn't improved; it continues to decline," he says.
Loneliness and isolation can also look different for different people. Even if someone appears to be connecting with friends and family regularly, if they perceive that they are lonely, they might be. At the same time, a person deeply connected to one friend might not perceive herself as lonely. The degree of connectedness people share is just as important as having family members around them or multiple connections.
"We also need specific connectedness, someone who we can speak to in confidence," Khan says. "The more people you talk to and the greater variety of social connections you have, the better chance you have at having a well-rounded social circle."
Khan cautions that while online connections still count, virtual connections can negatively affect socialization. He worries that if people don't learn to put down their phones and step away from social media, we could see a society of baby boomers who will face significant social isolation in the next five to 10 years.
"If social systems, backed by legislation and other groups, don't talk together about where we are heading, we could see a calamity at some point," he says.
Connecting Socially Isolated People
In response to the loneliness epidemic, the state of New Hampshire, in February 2022, issued a request for proposals to develop a program to reduce social isolation to prevent mental, emotional and physical decline for citizens over age 60 who identified as home-based or socially isolated.
The Partnership for Public Health was awarded a grant, funded through federal pandemic relief funds, to conduct a needs assessment, develop a website to promote New Hampshire senior programs and create social opportunities for seniors, according to Tina Goulet, a social worker and program manager for caregiver support and consumer-directed services for the New Hampshire Department of Health and Human Services' Bureau of Elderly and Adult Services.
The Partnership for Public Health solicited ideas from individuals, adult protection services, law enforcement and Meals on Wheels to understand what people would be interested in, Goulet says. Beginning this fall, seniors and their families can find social opportunities across the state — in-person and virtual — at wellnesslink.org.
At the same time, the state's AARP chapter recognizes the importance of connecting older adults with opportunities for social interaction. Christina FitzPatrick, state director of AARP in New Hampshire, echoed the Surgeon General's finding that the long-term effects of social isolation are as harmful to an individual as smoking 15 cigarettes a day. Retirement can put people at risk for loneliness if they don't plan ahead.
"Transitioning from working full time to being retired can be a challenge for maintaining social connections since a lot of people do most of their socializing at work," she says. "It's important to think ahead and identify how you are going to build and maintain relationships and involvement in your community when you're no longer working."
In addition to volunteering, Scholl spends time going out to dinner with friends and attending club meetings. He says the staff, patients and visitors he meets at Cheshire Medical Center give him a feeling of importance that would not exist if he were isolated at home.
"I often hear people say, as they approach retirement, that they have so much to do and that it will take years to get it all done," he says. "But for many, they need some-thing more, and volunteering is one way
to do it."