NH's Latest Food Trend: Ghost Kitchens
New Hampshire chefs deliver the goods, minus the traditional restaurant setting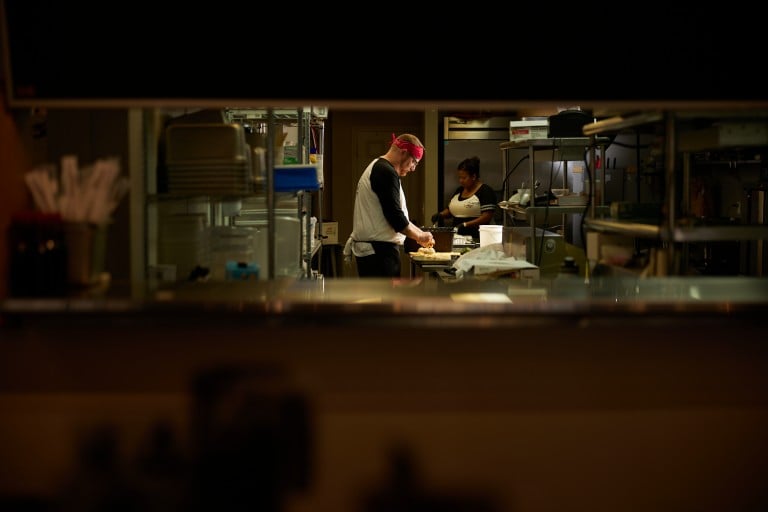 "Ghost kitchens" perhaps sounds like the paranormal hunter TV show producers have run out of ideas, but there are no jump scares here, just tasty takeout.
Most Granite Staters' first introduction to the concept was the news that Food Network celebrity chef Guy Fieri was bringing his Flavortown Kitchens to New Hampshire. Rather than build a new, standalone restaurant, Fieri chose to operate three ghost kitchens in Salem, Nashua and Manchester.
The sort-of-spooky name has nothing to do with things that go bump in the night, unless you count chefs banging around kitchens in what should be the off-hours. Ghost kitchens, rather than undergoing the expense of opening their own restaurant, work out of an already -established restaurant or retail space, usually offering just delivery or takeout. Some also sell their products at local specialty shops and farmstands.
Throughout the pandemic, the food industry was forced to make innumerable adaptations in order to survive. Delivery services boomed, and in a rare silver lining, a few local entrepreneurs took advantage of a hungry, homebound population weary of cooking seven days a week.
Here are three New Hampshire ghost kitchens offering homecooked meals, artisanal pizza and late-night eats.
Red Beard's Kitchen
Matt Provencher started the innovative Red Beard's Kitchen with his wife Dalila after the pandemic revealed a need for quality takeout food. Together, they cook out of Noodz restaurant's kitchen in Manchester, where they prepare homecooked comfort food meals, which customers only need to heat up. They offer pickup times on Tuesdays and Fridays.
Each frozen, handpacked meal comes with an ingredient list and instructions for preparation and cooking. Currently, they offer soups such as seafood chowder, creamy tomato bisque and broccoli cheddar, as well as entrées including shepherd's pie, baked haddock and lasagna.
Many of the ingredients used at Red Beard's come from local farms. All of their fish is sourced from New England Fishmongers, and they get produce from Three Rivers Farmers Alliance. Currently, their products are available at farmstands across the state — including Contoocook Creamery, Vernon Family Farm and Brookvale Pines Farm.
In addition to Red Beard's, Provencher works full time at another restaurant, and he and his wife are raising three daughters.
The main challenges in starting up the business, says Provencher, were the logistics, such as getting their permit application approved, due to the lower number of staff in the Manchester city offices.
Pushing through was worth it though — the best part, he says, is the local connections. Customers are excited to eat locally sourced food, and the farmers are glad to have one more outlet for their products.
Find more information about Red Beard's Kitchen on Facebook, and place online orders at red-beards-kitchen.square.site.
Ray Street Pizza
A longtime amateur pizza chef, Beau Gamache recently quit his full-time technology sales job to focus on his new venture, Ray Street Pizza in Manchester.
Cooking was always a hobby of his, but after his then-girlfriend returned from Italy talking about delicious pizza, he began attempting to recreate it. Today they're married, and his full-time job is handcrafting New York-style, ultrathin-crust artisanal pizzas.
Several years ago, Gamache began sharing his creations on Instagram under the handle "ThePizzaGram," and ended up gaining quite a following by posting photos of the pizzas he was making for friends and family. After spending time selling pizzas out of his house (on Ray Street, hence the name), being approached by an old friend and executive chef, and doing several popular pop-ups in collaboration with Collectus Culina, Ray Street Pizza finally got its own space — of a sort.
Bayona Café in the Jefferson Mill building, which temporarily closed when the downtown lunchtime crowd disappeared, is now home to Ray Street.
Ray Street is a one-man show at the moment, but Gamache hopes to hire several part-time employees to help with prep and cooking in the near future. And, looking out even further, possibly taking the next step to a full-time gourmet pizza restaurant.
After many years of working under constantly changing tech companies, he is definitely enjoying being his own boss. The freedom in his schedule has been enjoyable as well.
"It's awesome. I come to the kitchen in the morning, I prep, I get some time usually in the middle of the day and I'll go home and see the kids or I'll get stuff done. It's awesome. It's like, I am busy but I get to basically do whatever I want, all the time," he says.
Currently offering takeout and delivery, Ray Street also caters private events, both formal and informal.
The menu changes often, including inventive weekly specials, such as specialty pizzas and even street tacos. Some menu staples include the sweet pepperoni, margherita moderna and sausage ricotta artisanal pies. There are also gluten-free, dairy-free and vegan options.
Ray Street Pizza is open Tuesday through Saturday, and orders can be placed through Facebook and at raystreetpizza.com.
Fry'd
After attending a food truck festival during a California vacation, University of New Hampshire senior Darren Gibadlo knew he wanted to bring the concept back to Durham. However, due to campus restrictions, the food truck idea evolved into a ghost kitchen now operating out of Wildcat Pizza. The team first opened their doors (so to speak) in early March, and have been well-received by the college community.
Their motto is "food for friends, by friends," and the idea is to keep the food affordable, local and inclusive. In order to best reach their target audience — hungry college students — they utilize a variety of social media platforms, including Instagram and TikTok, and also send out a weekly newsletter.
The Fry'd guys, a group of six friends, have devoted most of their free time to the business, including sacrificing the typical senior-year traditions. "We're pretty much nocturnal," Gibadlo jokes. "We're getting through it and definitely trying to focus on that mental health and work-life balance for sure."
However, they're keeping their attitudes positive and enjoying growing their brand together, says Gibadlo. As both friends and roommates, they try to keep their relationship as business partners separate. They each take on a specific role — such as chief financial officer or director of morale — but do a lot of collaboration, including with marketing and kitchen work.
They hope to bring food truck to the Seacoast area this summer, and they'll be back on campus for the fall semester.
Fry'd is open Wednesday through Saturday from 10 p.m. to 2 a.m. Online orders can be placed at frydlatenight.com.