Where to Celebrate Independent Bookstore Day
Independent Bookstore Day is on April 24, 2021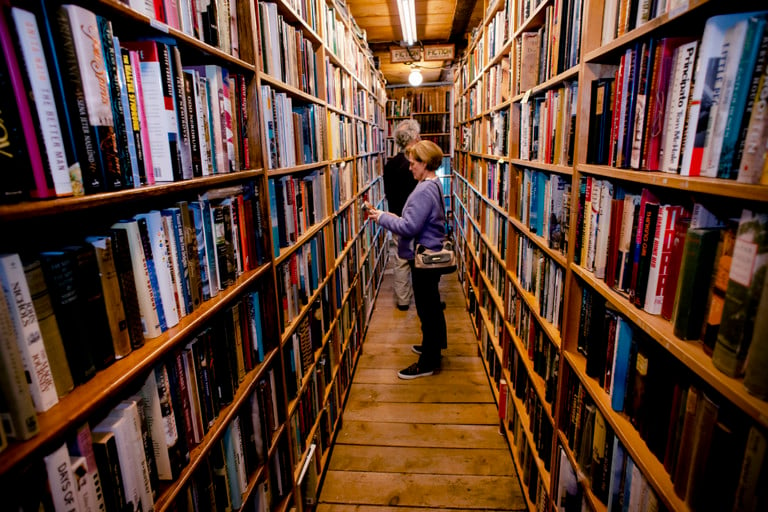 Independent Bookstore Day is celebrated annually on the last Saturday in April and here's a look at some of New Hampshire's favorite indie bookstores.
Indie Bookstores in Southern New Hampshire
The Bookery, Manchester
Located in the heart of the Queen City on Elm Street, this bookstore is a favorite by down business people and bookworms of all ages. In addition to a great selection of books, you'll find puzzles, games, cards, gifts and a café featuring noshes from Angela's Pasta and Cheese Shop.
Find them: 844 Elm St., Manchester
More information: (603) 836-6600, website, Facebook
Gibson's Bookstore, Concord
Longtime Best of NH winner, Gibon's Bookstore is conveniently located on South Main Street, near the New Hampshire State House, and has been in business since 1898. If you're looking for a great podcast to listen to, don't miss The Laydown Podcast, featuring three Gibson's staffers.
Find them: 45 S. Main St., Concord
More information: (603) 224-0562, website, Facebook
Indie Bookstores in the Monadnock Region
The Toadstool Bookshops, Keene, Nashua and Peterborough
With three convenient Mondanock Region locations, it's easy to see why Toadstool is a local favorite. Despite the pandemic, Toadstool was named the 2021 New Hampshire Retailer of the Year.
Find them:
Keene: 12 Emerald St.
Nashua: Somerset Plaza, 375 Amherst St., Route 101A
Peterborough: 12 Depot Sq.
More information:
Keene: (603) 352-8815, email books@ktoad.com, Facebook
Nashua: (603) 673-1734, email books@mtoad.com, Facebook
Peterborough: (603) 924-3543, email books@ptoad.com, Facebook
Indie Bookstores in the Seacoast Region
Water Street Bookstore, Exeter
A seacoast area favorite because of it's large selection of books as well as walking proximity to other Water Street businesses, including: Lunachics, D Squared Java and Crypton Comics.
Find them: 125 Water St., Exeter
More information: (603) 778-9731, website, Facebook
RiverRun Bookstore, Portsmouth
The longest-standing independent bookstore in Portsmouth, RiverRun has a thoughtful book collection and a friendly, well-read staff.
Find them: 32 Daniel St., Portsmouth
More information: (603) 431-2100, website, Facebook
Sheaf Street Books, Portsmouth
Sheaf was called "The Best Small Bookshop in New England" by our sister publication, Yankee Magazine. Isn't it time that you stopped in and looked around for yourself?
Find them: 29 Sheaf St., Portsmouth
More information: Order online and stay in touch via Facebook.
A Freethinker's Corner, Dover
Not only a new and used bookstore, you'll find work and design space for art lovers in The Gallery.
Find them: 652 A Central Ave., Dover
More information: (603) 343-2437, website, Facebook
Avenue Victor Hugo Books, Lee
Once a beloved fixture in Boston's Back Bay, they're now settled into the Granite State and were welcomed with open arms.
Bonus: Check out our story on this unique shop.
Find them: 1 Lee Hill Rd., Lee
More information: Use the links above and stay in touch on Facebook.
Indie Bookstores in the Dartmouth/Lake Sunapee Region
Morgan Hill Bookstore, New London
Always available for recommendations (whether you're in store, on the phone or by e-mail) Morgan Hill's staff is top notch. In addition to great reads, they also have a lovely selection of cards and gifts.
Find them: 253 Main St., New London
More information: (603) 526-5850, email mhbs@tds.net, website, Facebook
MainStreet BookEnds, Warner
Truly the heart of the community, MainStreet BookEnds is not only a beloved bookstore, but it has a robust marketplace, lovely children's section and art gallery. This is the perfect gathering place for friends old and new.
Find them: 16 E. Main St., Warner
More information: (603) 456-2700, email info@mainstreetbookends.com, website, Facebook
Still North Books & Bar, Hanover
Relax in this bright space with comfy chairs and grab a glass of craft beer or coffee while you unwind. Located just two blocks from the Dartmouth campus, this is the perfect spot to meet friends or curl up and crack open the spine of a new book.
Find them: 3 Allen St., Hanover
More information: (603) 676-7846, website, Facebook
Indie Bookstores in the Lakes Region
Innisfree Bookshop, Meredith
Located at Mill Falls Marketplace, Innisfree offers a wide selection of books, games and gifts. After you grab a book, head down to the waterfront and catch the calming sounds of the lake while you indulge in your latest pick.
Find them: 312 Daniel Webster Hwy., Meredith
More information: (603) 279-3905, email contact@innisfreebookshop.com, website, Facebook
The Country Bookseller, Wolfeboro
Self-proclaimed as a small-town bookseller with a huge selection, everyone will find the perfect book at The Country Bookseller. In addition to great reads, you'll also find some delicious pastries, coffee and refreshing gelato in the café.
Find them: 23 N. Main St., Wolfeboro
More information: (603) 569-6030, website, Facebook
Bayswater Books, Center Harbor
A Lakes Region favorite since 1996.
Find them: 12 Main St., Center Harbor
More information: (603) 253-8858, website, Facebook
Indie Bookstores in the White Mountains Region
White Birch Books, North Conway
A White Mountain gem, located near Cranmore Mountain Resort and the Christmas Loft, this bookstore is warm, inviting and one-of-a-kind (thanks to the fun architecture and funky colors!). Make sure to stop in on your next visit to bustling North Conway.
Find them: 2568 White Mountain Hwy., North Conway
More information: (603) 356-3200, email info@whitebirchbooks.com, website, Facebook