It's Time To Head Back to NH's Family-Friendly Fun Spots
What's new, what's improved, and why you need to visit this summer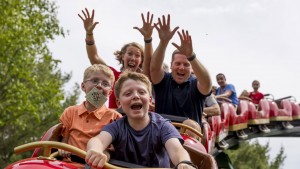 A lot can change in a year, and that is especially true at some of New Hampshire's most popular family-friendly favorites. Last summer was like no other, with indoor fun especially at a premium. While we were hiking and biking or hunkered down, several familiar spots took the opportunity to renovate, add more activities or open exhibits. There are a few new places to visit too.
Here are the attractions that you'll want to add to your summer fun to-do list.
Get jolly in June
Santa's Village in Jefferson
www.santasvillage.com
Many were disappointed when Santa's Village in Jefferson had to close in November 2020 before the holidays, but now is your chance to make up for lost jolly and reacquaint yourself with Santa himself.
Santa's Village, where it is always Christmas, opens Memorial Day weekend, and is introducing a new event this year: The Jolly June FEASTival.
For 11 days in June, the park will celebrate the halfway point to Christmas. Pay a special admission price and you can feast all day on park favorites such as doughnuts, pizza, burgers, ice cream and drinks.
Between treats, hop on popular rides such as Santa's Train or the Christmas Ferris Wheel. And don't forget to feed the reindeer. They are sure to want a treat too.
Take a tour, go back in time
American Independence Museum in Exeter
independencemuseum.org
Learning can be fun, and the American Independence Museum in Exeter is historical proof.
Join the American Independence Museum for an hourlong guided tour of the Folsom Tavern. The new Folsom Tavern tour, according to the museum's website, examines its history, the place that taverns held in Colonial and Revolutionary history and the different experiences that people had in taverns.
The tour is about 45 minutes, then you can continue exploring the tavern and museum grounds on your own.
Also, a modified version of the American Independence Festival returns in July with a mix of in-person and virtual events.
More than mini golf
Mel's Funway Park in Litchfield
melsfunwaypark.com
Chuckster's in Chichester
(second location in Hooksett)
chuckstersnh.com
Chuckster's in Chichester and Mel's Funway Park in Litchfield have added to their long list of attractions and activities for 2021.
Both places are adding bumper boats — imagine bumper cars but substitute in motor-driven inner tubes and add water.
Mel's bumper boats are open now while Chuckster's expects to have them available Memorial Day weekend. In addition, Mel's has added a "mini area" for the younger children in your family. It features mini go-karts and its own mini bumper boat area and other activities.
Grand re-opening
Candia Springs Adventure Park in Candia
candiasprings.com
After a year off, high-flying fun is making a return to southern New Hampshire.
Candia Springs Adventure Park did not open in 2020, but it is under new ownership and a grand reopening is scheduled for May 28, 2021. Families can enjoy an adrenaline-fueled day by taking advantage of the several attractions Candia Springs offers — a water park, zip-lines and a state-of-the-art aerial adventure park.
Exploring the arts
The Fells in Newbury
thefells.org
The John Hay Estate at The Fells has a long tradition of providing educational programming for families and children. This year they are launching the Children's Summer Art Series on June 22.
On Tuesdays through July 20, children can explore writing, poetry and the fiber arts and more with guest educators. The series is open to all ages. The Fells also offers other programs and camps for preschoolers through teens or take the kids on a hike through the 83-plus-acre property that was once home to statesman John Hay.
A new look at history
The Wright Museum of World War II in Wolfeboro
wrightmuseum.org
The Wright Museum of World War II, home to more than 14,000 items, has gotten a makeover. Renovations were completed at the 30,000-square-foot museum in early 2020.
Among the improvements is the new 1,600-square-foot DuQuoin Education Center, a redesigned theater and library, expanded second-floor art gallery, archives room, lobby and museum store.
The 2021 season kicks off with two new exhibits, both of which focus on the role women played in WW II. They will be open from May 1 to June 10, 2021. New exhibits will be added later in the year.
Not just another fish tale
Living Shores Aquarium at Story Land in Glen
livingshores.com
There is a new reason to head to Story Land this summer, though it is a bit fishy.
Story Land opened Living Shores Aquarium — the state's first aquarium — in November 2019. It was only open a few months until it had to shut down due to COVID-19. But the wait is over. Families can return in May to meet more than 1,000 new friends.
The aquarium, open year-round, includes more than 32,000 square feet of interactive tide pools, immersive activities, and exhibit. Visit the otters, touch sting rays, interact with tropical birds and more, according to the website.
Living Shores Aquarium tickets are sold separately, but you can opt for the Story Land unlimited platinum pass that will get you into both parks. Ages up to 2 get in free.
While you are there, you know you are going want to check out Story Land, the more-than-65-year-old theme park that has fun for all ages. Run, don't walk, to the antique cars, storybook houses, teacups, Cinderella's Castle and more.
All-in-one fun and games
Dave & Buster's in Manchester
daveandbusters.com
Block Party Social in Hooksett
blockpartysocial.com
Dave & Buster's in Manchester and Block Party Social in Hooksett both came on the scene last year. If you are looking to eat, play and hang out with the family all in one place — these are your spots.
Block Party Social was formerly Space Entertainment Center. More than arcade games and laser tag, you can try out the high ropes course with 180-degree zip-line (only one of two in the country), climbing walls, billiards and a huge interactive game space. They also offer food, with a menu put together by Executive Chef Christopher Cate.
Dave & Buster's, which is located at the Mall of New Hampshire, features food, arcade games, virtual reality experiences, and massive screens to watch your favorite local teams.
On the move
McAuliffe-Shepard Discovery Center in Concord
starhop.com
When the Mount Washington Observatory's Discovery Center in North Conway closed last year, they partnered up with the McAuliffe-Shepard Discovery Center in Concord.
Eighty percent of the exhibits have been relocated to the McAuliffe- Shepard Discovery Center — including the Shaky Shack, the replica of the 1930s-era observatory staff's mountaintop cabin in which the highest human-observed surface wind speed on Earth was recorded in 1934.
Earlier this year, the Discovery Center also upgraded the technology for their planetarium. You won't want to miss seeing a brand-new star- studded planetarium show.
By train or bike — your choice
The Hobo & Winnipesaukee Scenic Railroad in Lincoln, Meredith, Weirs Beach and Laconia
hoborr.com
Get ready to ride the rails this summer.
The Hobo & Winnipesaukee Scenic Railroad is unveiling a new rail experience in late May. You will be able to pedal rail bikes along a mid-1800s rail line on a trip that begins and ends at the historic Laconia Railroad Station in Veterans Square.
The route takes you past the site of the former Laconia Car Company, which built rail cars from 1848 to 1928, then over a trestle bridge crossing the Winnipesaukee River and Durkee Brook before reaching the shore of Lake Winnisquam. It is two hours of adventure for those ages 5 and older.
If you would rather save your energy and take in the beauty of the Lakes Region by train instead, check out the Hobo & Winnipesaukee Scenic Railroad schedule. The new season starts Memorial Day weekend.