In their own words: "Ringmaster" Tickles the Clown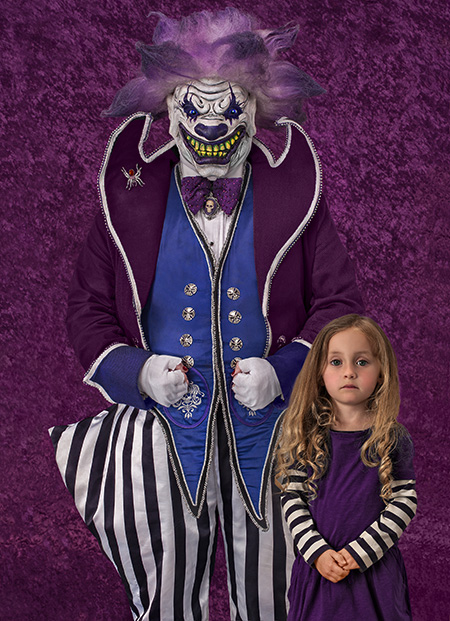 O
ne of the most beloved (or befeared) characters at the annual, spectacular Haunted Overload in Lee is "Ringmaster" Tickles the Clown (aka master costumer Bill Kennedy). Usually a shy fellow, we got Tickles to speak up on everything from coulrophobia (fear of clowns) to his own nightmares.
Although pop culture had clearly played a role, I think the fear of clowns is more primal and much older than most pop culture references.
It's a scary climate right now with the raging wars and extremist groups such as ISIS.
The constant smile on the face makes one uneasy and nervous.
I actually left a paid job at a "big box" haunted attraction as Haunted Overload gave me the opportunity to create and show the artistic side of fear.
I have had people come through holding their children in front of them as a shield.
We warn parents about the intensity level. Some kids absolutely love it. For some, it's not a beneficial or positive experience.
I sleep best in the pitch dark and I always have.
Tickles began with a simple sketch. I hand crafted everything (with the exception of the boots) as I do not believe in purchasing store bought costumes. There is no originality in that.
I was one of those kids (and adults) who found clowns to be quite frightening.
One could say that my own fears and anxieties about clowns is where Tickles was born.
---
When he's not scaring the bejeezus out of visitors to Haunted Overload or creating outrageous makeup and set design for attractions like Spooky World, Bill Kennedy works as a child protection social worker for the Massachusetts Department of Children and Families. (Learn more about Tickles' political aspirations at "Tickles for President in 2016" on Facebook.)
---
Check out Haunted Overload
DeMeritt Hill Farm
66 Lee Road (Route 155)
Lee, NH 03861
(603) 868-2111
www.hauntedoverload.com
Open various days and times throughout the month of October.