Celebrating Women Through Connection
Today's social groups exclusively for women celebrate the power of sisterhood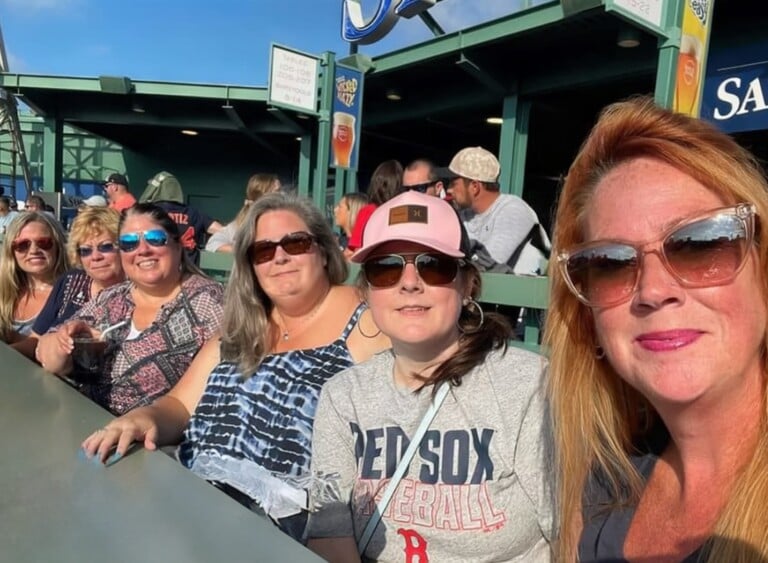 This isn't your mother's Red Hat Society.
That organization sprouted a quarter-century ago as a social organization for women over 50, and the ladies dressed in elaborately decorated red hats, outlandish purple outfits, and even feather boas and pearls when they gathered for afternoon tea parties.  
Today's social groups designed exclusively for women don't have dress codes, and while the main objective remains fun and friendship, they have evolved into so much more. 
The mandate of the Ladies of the Lake, which is based in Laconia and has 1,400 members from  towns around Lake Winnipesaukee, is "Fun, Friendship and Community Service." Another group just getting started in the same part of the state is the Lakes Region Ladies of Leisure for seniors who are retired or semi-retired from their careers.
Both groups, and others like them here in New Hampshire and across the country, create authentic connections, celebrate the power of sisterhood and revel in the magic that happens when women support women.
"The reason I decided to do the startup with the Lakes Regions Ladies of Leisure is because I'm involved in the group at The Villages, and I'm a top contributor there," says Sylvia Pierce, 72, who lives in Gilford for six months of the year and at the well-known retirement community in Florida for the other half of the year. 
"I'm doing this in New Hampshire now, because the concept works so well everywhere else. You cannot believe how many women are trying to get into our group in The Villages," Pierce says. "We were going to cap it at 1,500, and now we're at 3,000. Women want this and really enjoy this. There is a definite need. My New Hampshire group is small, but it's the same. It's meeting new friends and making new besties. We're all about women supporting women and becoming sisters."
It's an established fact that as people age, and as they leave the workforce, their social circles shrink. It's inevitable that at the same time their families become smaller. 
"In our group at The Villages, we're each creating a new family," says Pierce, who adds individual bonds are formed organically through participation in a wide variety of fun events and interesting, informative and entertaining activities. 
The Ladies of the Lake is the brainchild of Holly Ruggieri, 58, of Laconia. She and Pierce don't know one another, but they could be soul sisters.
"I started this in 2015 because my kids were fully grown and I had a lot of friends, but the times we'd see each other were when our kids played sports or at school functions. Once your kids are grown, the question is, what circles do we run in now? Where do we meet people? Where do we hang out? So I threw my idea out there one day and it stuck," she says. "I put it out there on my social media, and it just took off and kept growing. The membership quickly went from 200 to 500 to 700, and we said, 'What is going on here?' It's the most amazing thing." 
What's going on is that women from all walks of life want real connection. They want to find their own personal "tribe."
"We have women in our group who moved to the area and didn't know anyone, and after they show up at one meeting they never leave. They've made new lifelong friends. It's really kind of cool," Ruggieri says. 
Like the other groups, The Ladies of the Lake has a substantial and diverse assortment of events for its members to pick and choose from, and new events are added every month so the offerings don't get stale. They include movie nights, live theater or comedy shows, live music concerts, a Boston Red Sox or New Hampshire Fisher Cats game, a cake- or cookie-decorating event, a paint night, a craft night, cruises on the Mount Washington, dinner parties, lunches at a lakeside spot, a book club and much more.
"Being in a group like this is really good for women who don't have a partner and want to get out and do things, but don't want to go alone. It's equally good for women who are married to husbands who don't want to do anything or go anywhere," Pierce says.
Where these two groups differ is that the Ladies of the Lake has active members ranging in age from their 20s to their 80s, and their mission includes charitable endeavors with the focus on Make-A-Wish New Hampshire, the Lakes Region Children's Auction, the Boys & Girls Club and helping area schools with needs.
"We've raised over $100,000 for community service throughout the Lakes Region," Ruggieri says. "We do fun events all year round, and we do charity events the whole year. I have a fantastic board. Debbie Wallace and Kathy Drouin are my closest cohorts, and they are the two who help drive the train. We also have wonderful volunteers who help with all the events because we couldn't do it alone. There is a large group of incredible women of all ages who have met through this group and are invested in this group. They help plan the events and run the fundraisers." 
Pierce's New Hampshire group, which already numbers a dozen and is growing through word of mouth, intends to do some charitable work once fully established. But for now, it's about fun and friendship. 
"We're seniors. We worked hard all our lives and had a lot of responsibility and stress in our careers. We don't want that at this stage of our lives. We just want to have fun. We want to laugh," says Pierce, who hosts the weekly Martini Monday and Wined Down Wednesday events at The Villages. 
"These groups for women, whether married or single, are increasingly more popular all over the country. As more women retire and search for real connection, it's only going to get bigger," Pierce says. "We all know that life is short, and our time is getting shorter, so let's make the most of it. Let's make new friends and enjoy life together."
Even better, they don't have to wear a red hat. 
For more information on Ladies of the Lake, check out the Facebook page, facebook.com/groups/ladiesofthelakenh or the website, ladiesofthelakenh.com, where you can see the schedule of events and sign up for the newsletter.