Celebrate Christmas at The Music Hall Holiday Shoppe
This month-long pop-up shop in Portsmouth offers candles, centerpieces, wreaths and more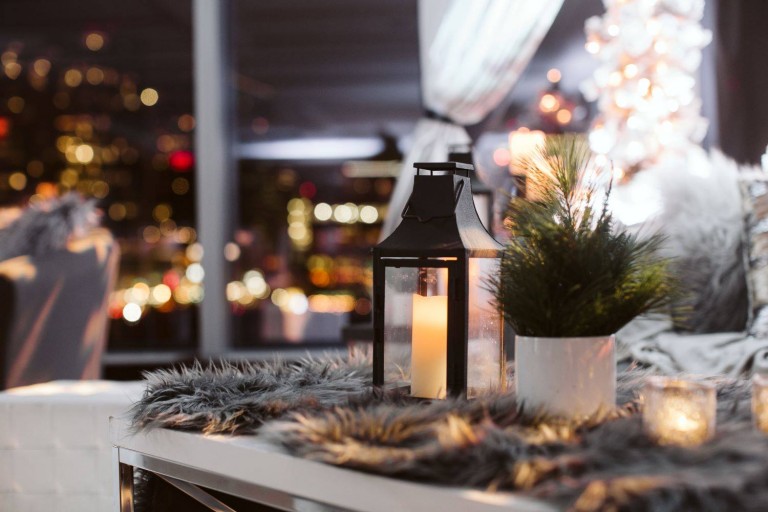 The Music Hall and Malloy Events are partnering to bring you a cornucopia of holiday cheer, in a socially-distanced holiday shop in the elegant and intimate Loft venue.
In partnership with Malloy Events, The Music Hall's Holiday Shoppe at The Loft will offer custom branded merchandise and gifts along with pre-ordered, ready-to-go floral arrangements for your holiday decorating needs.
We reached out to Kate Malloy and The Music Hall to learn more about this fun and unique holiday shopping experience.
Tell us more about the event. What inspired it? Why Portsmouth?
Kate: "We have had a great partnership with the team at the Music Hall for years, and we have even had two one-day pop up holiday flower shop events in the past at the Loft. When we were all talking about how to keep the holiday spirit going this year and to add some cheer to Portsmouth, we decided to step it up and create a month-long version of the pop-up shop. Portsmouth is a wonderful place year-round, and during the holidays there's even more magic. We wanted to add to the magic!"
What can people expect when they visit?
Kate: "There will be grab-and-go centerpieces, wreaths and garlands to purchase, as well as the ability to pick up your custom order that you can place online.  We will have our floral designer making everything on site at the Loft so people can see what she's doing and also be able to customize right then and there. We are also offering some gifts such as holiday candle sets for your dinner table, potted holiday plants in fun containers and even some great hostess gifts.  The Music Hall is also selling some great branded merchandise such as sweatshirts, blankets and t-shirt, as well as a very extensive collection of books from the authors who have graced their stage. We also have a snow bunny selfie station for people to take photos to post on their socials if they want a festive background! The best part about the shoppe is that we have decided to make it feel festive and full of holiday cheer, so it will be decorated both inside and out and music will be playing from curated lists."
What type of gifts will there be? Where are the floral arrangements from? What local vendors are participating?
Kate: "We are partnering exclusively with The Music Hall so Malloy Events is designing all the floral arrangements, wreaths and garlands. We are curating all of the gifts we are selling too. Prices will range from $15-$85, so there really is something for everyone at The Music Hall Holiday Shoppe!"
Will there be music? How will you be spreading holiday cheer (without spreading COVID)?
Kate: "Although there won't be any live music happening at the Shoppe itself, there is a wonderful live music series for the holiday right next door at the Historic Theater called the Stage Door Cabaret. We are also going to have holiday music playing throughout the shoppe and outside as people walk by. We will be encouraging people to put their requests in via our social media channels to get people involved! We are also spreading holiday cheer outside of the shoppe with a special projection project on the windows when the sun sets."
Is there anything else that people can get excited about?
The Music Hall: "This year, the new Stage Door Cabaret series will feature world-renowned artists in a speakeasy, martini bar atmosphere. Enjoy socially distanced seating arranged right on the historic stage with professional table service during the world-class entertainment. Malloy Events is providing elegant lighting and decor, as well as gorgeous floral arrangements for the tables that will really transport you. Local and regional artists will perform from a huge range of musical genres such as opera, Broadway, R&B, folk, jazz, rock, country and more!"