The Scaredycat's Guide to Haunted Houses
Fear led our primitive ancestors to hide in caves and build fires to keep their nightmares at bay. Today, we leave our caves and home fires and even pay good money just to get a taste of that primal sense of terror. Here, just in time for Halloween, is a guided tour of two of the state's finest horror dispensaries.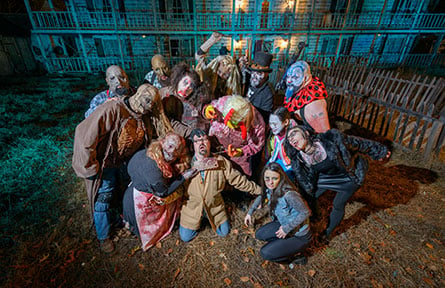 When the editors of New Hampshire Magazine approached me about a Halloween feature, it sounded like a cruel joke. "We want to send you to some of the state's scariest haunted houses and see what happens." What happens? I'll tell you what happens. This guy is going to lose his voice screaming and have water pouring out of his eyes (his eyes, if he's lucky). Because, like Bert Lahr's Cowardly Lion, "I do believe in spooks. I do believe in spooks. I do, I do, I do. I do."
When all of the leaves have fallen and the branches of trees look like crooked fingers ready to pluck bad little children from the path, a new kind of tourist season comes to New Hampshire. The Halloween horror experience has become an increasingly popular entertainment option. From high-end corporate terror parks to do-it-yourself haunted houses, there are plenty of options if you care to be scared.
---
To test my mettle, I went to Nightmare New England in Litchfield. In milder temperatures, this is Mel's Funway Park. The only screams heard here come from kids on the Go-Karts or their fathers who tear a meniscus in the batting cages. But for co-owners Wayne Caulfield and Michael Accomando, the scare-fest is the perfect attraction for the slow season between summer and the holiday sleigh rides.
More than $1.5 million in sets, costumes and special effects has been invested into the most amazing and equally terrifying haunted amusement park since Scooby Doo and Shaggy took down old man Jenkins. (And he would have gotten away with it too, if it weren't for those meddling kids.)
I began my journey on the park's newest attraction, the one-mile-long Haunted Hayride into the woods. Before boarding, there was a sign that read, "The monsters will touch you," but you're not allowed to touch the monsters. I'm calling BS right here, because if some creepy scarecrow rests a hand on my shoulder, I'm going into a flurry of stiff-armed windmill slaps that say "I-have-no-professional-martial-arts-training-but-I-will-not-stop-until-we're-both-thoroughly-embarrassed."
The tractor rumbled past decrepit cabins, an undead tree house village (think: "Psycho" meets "Swiss Family Robinson"), even a fiery plane crash. I was so taken by the high-end scenery and pyrotechnics that I didn't notice the costumed creature that climbed aboard and sat next to me. When I finally turned, I emitted such a high-frequency screech that squirrels fled. All in all, I give the Haunted Hayride a score of two milligrams of Xanax UP!
---
Nightmare New England is just one of the major, large-scale horror operations in the state. These include Fright Kingdom in Nashua, Canobie Lake Park Screeemfest in Salem, Haunted Overload in Lee and The Ghoullog in North Conway.
Nightmare New England has its roots in one of the biggest Halloween-themed amusement attractions of all time. This bad dream was first realized in 1991 as "Spooky World" in Berlin, Massachusetts. What started as a haunted hayride quickly grew into the biggest horror theme park in the country. The operation moved to the old Sullivan Stadium in Foxboro (which, for its day, was still not as scary as watching the Patriots play the Houston Oilers).
Billed as "America's Horror Scream Park," Spooky World attracted the likes of cult movie queen Elvira, "Monster Mash" singer Bobby Pickett, "Exorcist" pea soup projectile vomitist Linda Blair and, (I'm not making this up) for some reason, 1950s cowboy television host Rex Trailer. Customers came from hundreds of miles away just to walk the dark mazes of Spooky World's halls.
Following the death of one of Spooky World's co-founders in 2004, the operation began moving from one location to another. It wasn't until 2009 that America's Horror Scream Park found its new home in Litchfield, where nearly 50,000 people a year gather for a good scare.
---
---
Ashley Rodney and Crystal Lopez of Boston said they made the trip because they heard this was best Halloween attraction in New England. They agreed to walk through the Festival of Fear with me. Visitors pass through the black-lit maze wearing 3D glasses, so even the walls are reaching out at you. Don't even get me started on the creepy clowns. After the 10-minute trip, neither of them would talk to me anymore. It may have had something to do with the fingernail marks I left on their forearms.
My anxiety was not quelled by either of the next two attractions. The Colony is a stroll through an open-air village inhabited by mutants (kind of like summer camp without the s'mores). Brigham Manor is the park's requisite haunted house. Guests slink from darkened room to room, aided only by the light of a green glow stick (spoiler alert: it doesn't help).
While a startle of a loud "boo!" from around a gloomy corner is a tried-and-true tactic, there is also something powerful about finding nothing around that corner, about the tiny squeak of a distant door or about a monster not chasing you but rather walking casually alongside you. The good attractions balance these dynamics, using a combination of high and low tension to stay one step ahead of the visitors' anticipation.
---
Why do people like to be scared — even pay money to put themselves through the experience? Purdue University professor Glenn Sparks told world-renowned medical journal WebMD that the adrenaline of the fear might not be what drives thrill-seekers. It may be the euphoria of comfort that comes afterwards. Having confronted a flight-inducing situation may be the psychological relief desired.
Again, I call BS on this. Because the only relief I keep hearing about are people urinating involuntarily.
"It was pretty great. I made two grown men pee themselves," said 18-year-old Austin Devine of Manchester. (He is 18 years old and this is his goal! Come on, America! We can do better by our children! #squadgoals.)
Austin is a costumed "actor" of Nightmare New England, one of 250 employees made up like zombies, slasher villains, possessed rag dolls, psycho clowns and cotton candy vendors. He is dressed like an extra from Mad Max roaming around a frightful auto junkyard called Carnage. (Car-nage? Get it?). Unlike the classical Gothic aesthetic of a haunted mansion, this futurist labyrinth of steel and smoke is a unique backdrop for terror. He introduced himself to me by slamming an aluminum bat on the fender of a Borg-assimilated pickup truck. I will admit, when that sudden bang rang out behind me, a little bit came out.
---
A good scream can be found not just at the mega-horror parks but at dozens of smaller haunted houses all around the state. Whether it's a middle or high school fundraiser, a backyard set-up or a scout troop midnight hayride, all it takes is a twisted imagination to get freaky.
Bruce Perkins is probably the king of DIY horror. He and his late wife Barbie started their own amateur Halloween spooktacular (yes, spooktacular is now a noun) more than 15 years ago. Today, it's the season's go-to destination in northern Merrimack County. You might zoom past it on Route 3A in Hill if you're not paying attention. You can't find it on a fairground or a rec center — It occupies his yard. But what Christmas lights are to Clark Griswold, monster decorations are to Bruce Perkins.
Its name is almost too perfect: The House in Haunted Hill. It's a take off on the classic Vincent Price movie, "The House on Haunted Hill." And if you're old enough to know who Vincent Price is, your heart probably isn't strong enough to visit this attraction.
Bruce and a motley crew of volunteers begin constructing the shout shack in August just to be ready for the last weeks of October. Each year's model features a slightly different floor plan, designed to fool last year's visitors who remember the monster on the left by springing him from the right.
Bruce greets people in his newest costume: an elaborate crypt keeper on stilts cradling a demonic scarecrow puppet in his arms. He looks like a Jim Henson fever dream. Bruce estimates he's spent more than $30,000 on props, scenery and special effects — many of which he's purchased through haunted house supplier trade shows and industry magazines. (You think being published in New Hampshire Magazine is prestigious? You're nobody until you're in the pages of HauntWorld.)
I survived Nightmare New England and its pyrotechnics. House in Haunted Hill should be nothing. I even came early to visit the make-up tents where the 22 actors pick their masks and fake chainsaws, just to calm my nerves (I don't believe in spooks … I don't believe in spooks). Not an actual house, the maze is a series of passageways through scenes like a maniacal schoolhouse, an eerie funeral parlor and a treacherous swamp — to say nothing of the connecting pitch-black hallways in which anything can lurk.
I waited at the exit to get some reactions from those I heard screaming inside. "That was so great. I want to work here next year," said an obviously delirious Brandon Tratzinski of Alexandria. "I like the fact that I get scared." (Again, America, WTF?)
Well, I don't like getting scared, but I'm never going to get published in HauntWorld if I don't make my way through. I pulled back a tent flap and marched into the heart of darkness. The first thing I passed was a room full of dolls, which were pretty damn creepy to begin with. Then something made a loud metal bang (I don't know what made the sound, okay? What it actually was doesn't matter. It was just loud and I did not like. Not one bit). I found myself in a mist-filled marsh where vines hung ominously. From behind a tree, a "Black Lagoon"-inspired creature revealed himself. I began running in place while my feet made bongo noises like in a Hanna-Barbera cartoon.
Before I could escape, I had to pass through one long hall, completely black but for the strobe light flashing at the far end. Into the staccato blinking stepped a sinister figure. We were both temporarily frozen, sizing each other up. Then the figure began moving towards me — fast! With every burst of light, he was closer. Unable to turn back, I covered my head and tucked into a ball. I felt a whoosh of air and then there was silence. When I looked up I was alone. The figure — the actor — was no longer in the hallway. There was not enough time for him to escape at either end. I felt around for some trap door in the walls or floor, but there were none. It was as if the figure had simply vanished. And for the second time, a little bit came out.
I do believe in spooks. I do believe in spooks. I do, I do, I do, I do.