Give Your Holiday Cards an Extra Special Touch
Give your Christmas cards a touch of the time with a stamp from Bethlehem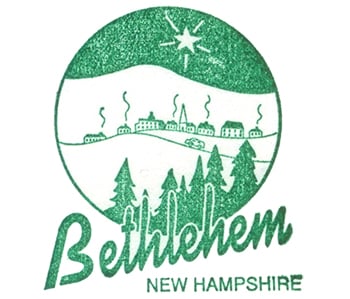 It starts the day after Thanksgiving — stacks of Christmas cards pile up in trays in the post office, waiting for the namesake cancellation mark of "Bethlehem, NH" and the green rubber stamp with the image of the tiny North Country town at Christmastime.
"In the first and second week of December, we have trays and trays and trays of cards," says Postmaster Brian Thompson. By December 31, when it all stops, the post office will have processed about 55,000 cards from all over the world.
It's a long tradition in Bethlehem (the town so named because it was incorporated on the last Christmas Day of the 18th century). In the 1960s, the then-postmaster wanted to do something special to note the town's connection to Christmas, so she drew the image you see on the stamp and began applying it to the cards that people brought in. Fifty years (and many rubber stamps) later, there is no sign that interest is abating.
It might sound like a lot of work for the small post office staff, but for them, it's a labor of love. "It's not that much extra work compared to the happiness it provides," says Thompson.
If you're interested, you can take your cards to the post office (stamp them yourself, if you prefer) or mail them (Bethlehem Post Office, Bethlehem, NH 03574), ready to go (addressed with postage stamps) in a box labelled "Christmas Re-mailing" (note the date you want them sent).