Fall Bike Tour with Kids
Enjoying the colors of the season with a not-so-easy day of pedaling on the Presidential Range Rail Trail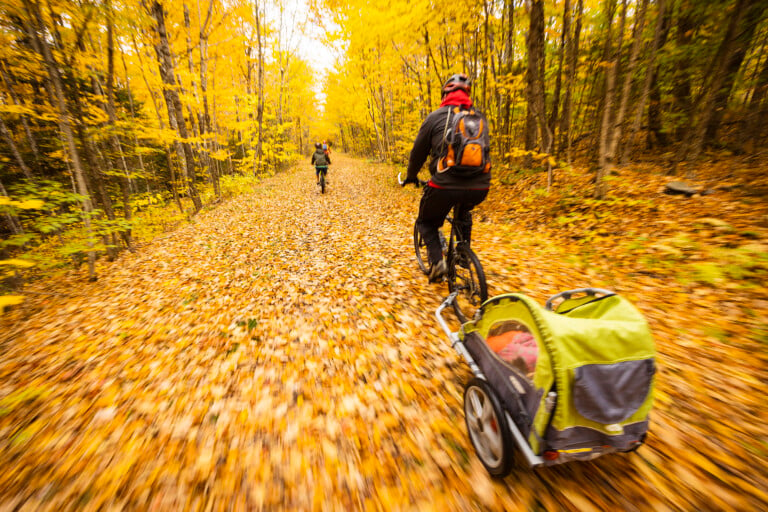 Ahead of me, the Presidential Range Rail Trail was bowered over by a softly shimmering canopy of yellow and orange leaves, flying like an arrow to the vanishing point a mile or so in the distance.
The way ahead was empty and quiet, but I was feeling restless. Straddling the frame of my mountain bike, I was gazing down the trail with no real thoughts in mind except "Go!"
There was the sound of bike tires on gravel, and 9-year-old Teddy Godbout rode up beside me.
"Whattaya doin'?" he said.
A hundred yards behind us, Teddy's dad, Paul Godbout III, his mother Krystyna Godbout, 7-year-old brother Max and 3-year-old sister, Emilia, were sipping water and debating whether to return the 31/2 miles to where the vehicles were parked.
I glanced back, then turned toward the boy. "You wanna stretch the ride?" I asked. "I'm gonna keep going for a while."
Teddy lifted his chin. "How far?" he said.
"I don't know. A mile, mile-and-a-half."
Teddy nodded. "That's not too bad," he said.
I drank from my hydration pack. "A mile and a half out means an extra 3 miles overall."
"Oh," Teddy said. I knew he and Max were tired, causing the pit stop in the first place.
"But it's flat," Teddy said.
Riding west to east on the trail, there's probably a 4% downhill grade. I knew from similar rides that you feel like a hero on the way out. Then on the way back, it's like you're dragging a piano behind you. "It looks like it's flat," I said. "But we've been going slightly downhill the whole way."
Teddy wrinkled his brow. "That means … "
"Yeah. A little bit uphill on the way back."
I waved my hand over my shoulder, pointing to where the others were waiting. "You can go back, buddy," I said.
The boy's eyes were clear. "I wanna go," he said.
Grinning at him, I said, "A little iron for the soul."
"What's that?" Teddy said.
"I used to say that to my son when he was your age. If you keep going, it'll get harder, but you'll get stronger."
Teddy nodded. "What did Liam say back?" he said.
I raised my eyebrows. "He always says, 'Let's keep going, Dad.'"
Twisting around in the saddle, I waved my arm, catching Paul's attention. I made a "forward ho" gesture up the trail and Paul gave the "all clear" sign, and Teddy and I set off.
Peak foliage, peak traffic
I was eager to keep going because of our late start. I'd left my home on the Massachusetts border at 5 a.m., making good time for the first hour and a half. But the peak foliage had drawn an interminable caravan of vehicles that snaked through Franconia Notch at 3 to 4 miles per hour. Making things worse, the surrounding mountains killed my GPS signal.
While I inched along in traffic, long silver lines of rain pelted the narrow roadway, and a skein of diaphanous clouds slipped over the ridge, drifting ghost-like into Echo Lake. I couldn't help admiring the beauty of all that gloom, although it didn't prevent me from uttering some choice epithets. It had an ancient feel to it.
About 12,000 years ago, Paleoindian hunters roamed this passage, using stone spear points and knives to kill and dress out the wild game. As I puttered through the Notch in the early light, I marveled at the variegated pattern of golden leaves, spinkled here and there with roseate tints, and accented by the darkened spruce trees jutting up like spears. The Paleoindians had seen all this, and for centuries the Abenaki tribes had passed this way.
I'd told my partner in these exploits, photographer Joe Klementovich, that I'd meet him at the Rollo Falls trailhead at 8 a.m. When I finally got through the Notch, it was after 9 a.m. and I missed my turn, ending up in Vermont. My cell rang and Joe said, "Where are you?"
"In vacation limbo," I said.
Joe is a steady guy, a planner and a doer, resourceful in every situation. A few minutes later he called back, told me where to turn off, and said, "I'm at Rollo Falls." He said there was no sign at the trailhead and that I should head toward Littleton, watching for a clump of maple trees or something. From that point I should drive for exactly 10 minutes, and then the trailhead would appear on the right side of the road.
I was surrounded by a million trees. Joe's directions were like being instructed to throw a rock over the roof of a house where a second thrower would hit your rock in mid-air as it came over.
"Roger that," I said, and hung up.
Shortly thereafter, driving east on Route 2, I glanced around for an important-looking clump of trees, watching my dashboard clock, poised to mark the 10 minutes.
But there were no structures or grove of maples in sight. The blazing foliage hewed close to the road on both sides, with nothing but a strip of tall grass marking the breakdown lane. I couldn't see any trail signs or turn-offs at all. So I started the countdown.
Exactly 10 minutes in, I saw a guy on a mountain bike going hell-bent-for-leather through the tall grass on the right side of the road.
For the past 8 or 9 miles, I'd had my windows rolled down, so I could practice all the swear words I knew at high volume, and suddenly there was Joe, rolling alongside my passenger-side window.
"You found it," Joe said.
Grinning at him, I said, "Through a combination of shouted profanity and prayers to Saint Charles Borromeo, my 'go-to saint' for cutting through red tape."
I banged a U-turn on Route 2, and drove into the trailhead parking lot. My longtime Amoskeag Rugby Football Club teammate Paul Godbout hailed me as I pulled up. At 6 feet, 2 inches, 250 pounds, Godbout is a force on the rugby pitch. He played varsity football at Ripon College in Wisconsin, earning All-Conference honors during his senior year. Every spring he played for the rugby club, much to his football coach's chagrin.
I climbed out of my vehicle, hugged Max and Teddy and Emilia, and took Paul's wife Krystyna in my arms. "Hello, beautiful," I said. "Your husband is a lucky S.O.B." At 5 feet, 9 inches, Krystyna Godbout is an athletic, blue-eyed woman with lovely cheekbones and a great smile.
When she first moved to the U.S., Krystyna played for the Amoskeag Rugby Football Club women's side. Originally hailing from High Wycombe in Buckinghamshire, England, she was a field hockey star, eventually rising to an elite level. Krystyna recently started playing rugby again after taking several years off to raise her kids.
The sporty Godbouts and I were coming off the ninth annual DIY Backcountry Triathlon held in Rumney. Teddy and Max and their parents had braved a chilly swim in Stinson Lake, taken a 7-mile bike ride over the hills encircling the lake, and hiked the 4.1-mile trail up 2,900-foot Stinson Mountain.
This trip was an extension of all that, an opportunity for the Godbout kids to see new terrain and test their mettle.
While we readied our bikes for the ride, I hugged it out with Teddy and Max, then Emilia reached out and I lifted her into the air. "Hello, sunshine," I said, kissing her on the head while she giggled. Paul zipped his daughter into the little caddy behind his mountain bike, and we set off.
The sky was overcast with temperatures in the low forties. Joe went ahead, going along the leaf-scattered road, scouting for the Rollo Falls trail. The Presidential Range Rail Trail runs 18 miles west to east from Whitefield to Gorham, rising and falling on a gentle grade and allowing views of the nearby Presidential Range. The surface varies between grass, gravel, packed dirt and cinders.
I was talking to Max, the family philosopher, when I realized Joe wasn't anywhere in sight. Then, just ahead, Joe popped out of the woods. I came swooping down the road, and as Joe went past, I angled my bike along the trail Joe had just emerged from. I wound my way upward, climbing steeply as the trail went through some birch trees and underbrush.
The smell of fresh water brought me to the foot of Rollo Falls. A wall of shiny black rock rose up from the grassy clearing at the apex of the trail. The narrow waterfall spilled over the granite ridge, cascading downward in a meandering series of leaf-covered pools. The rest of our party came up on foot. Max was boulder-hopping at the conclusion of the falls, while Emilia explored the edge of the stream in her pink fleece jacket, reciting something I couldn't hear over the noise of the stream and carrying a forked twig like it was a magic wand.
"Do you know your numbers?" I asked.
Emilia nodded, and began to recite "A, B, C, D," and Teddy and I laughed.
Meanwhile, Krystyna had found a Tupperware container that someone had left behind. Inside were a few pebbles, a chunk of quartz and a tiny log book for visitors to leave comments along with a couple of pencils.
Krystyna said that Teddy should write something, and he scribbled with the tiny pencil.
I took up the log book. Teddy had written "GET OFF MY PROPERTY!" and we laughed.
Krystyna put the book inside the container. Nearby, Teddy was staring at the falls. "Maybe I should have written, 'Sincerely, Teddy,'" he said.
From Rollo Falls, we descended the trail and set off, measuring the distance by the old railroad bridges that arched over a fast-moving stream every half mile or so. Max was curious about the bridges and how, when they graded the trail, the builders lined the bridges with sturdy planks for easy riding, cross-country skiing and running.
While our party lingered on the fourth bridge, gazing at the mountains, the weather changed. The Presidential Range runs approximately 25 miles from Webster Cliff in Crawford Notch to the southeast, with 5,366-foot Mount Madison anchoring the northern end.
As we leaned on the railing, we could see the thinning clouds stretching over Madison, with bars of light penetrating the cover, illuminating the mountainside and then fading away.
The clouds shifted, turning into gauzy white striations, billowing over the peak. "It's snowing up there," Paul said.
Keep moving forward
Now, a half hour after Teddy and I had broken off, I rode ahead while my young partner fell a little behind. Max and Teddy maintain a busy schedule. They play youth soccer and participate in a "Rookie Rugby" program for kids ages 4 to 12, with their parents joining in. Emilia enjoys gymnastics for toddlers and takes swimming lessons.
We rode for another 15 minutes, pausing on one of the bridges pitched over the stream bed. Teddy leaned his bike against the railing, gazing at the silvery pools dissolving into one another, and gurgling under the bridge.
"You all right?" I asked.
"Yeah. It's hard."
"Let's rest," I said.
Just then, I noticed Krystyna just ahead, straddling her bike. "Hey!" Teddy said as Krystyna rolled over the bridge.
"Getting tired?" she asked.
"A little," Teddy said.
We started riding together, and I could feel the pull of gravity as we ascended the grade. Fifty yards ahead, Joe appeared, taking pictures as we approached. "What's up?" he said, winking at us.
Joe and I rode on while Teddy and his mom fell behind. "It's harder than it looks," Joe said.
"It's like a Dostoyevsky novel," I said, drinking some water. "No one wished it was longer."
Breaking for lunch
Soon, we came alongside Paul pulling Emilia. Inside the little caddy she was fast asleep. Max rode past on his single-gear bike. Finally, Krystyna and Teddy came up, and we arrived at the cars and began stowing the bikes.
"All good?" I asked Teddy. "Iron for the soul," I said, and he grinned.
An hour later, we joined a crowd of mountain bikers, hikers and ATV enthusiasts at Big Day Brewing in nearby Gorham. Established in 2021, the brewery is a large, well-lit space, equipped with the shiny chrome tanks of the brewing operation. Joe said that Big Day Brewing is close to 22 miles of mountain bike trails.
The Big Day beer menu lists Knee Deep Milk Stout and Legit Lager, while the menu featured sweet potato tacos and "smashburgers" made with local beef, along with maple bacon-glazed, crispy, fried Brussels sprouts.
We occupied a table in the middle of the restaurant, with the kids to my left and Krystyna, Paul and Joe opposite.
I was searching for menu items marked "V" for vegan, which included chipotle-seasoned sweet potato with black bean salsa. Vegan for 15 years, I'm the object of mild derision from my rugby pals.
"Do they have it?" asked Paul.
"What?"
"The Godbout sandwich," he said with a laugh.
One time I brought sandwiches to a rugby tournament. The "Godbout sandwich" is a toasted bagel with hummus, dark greens, red onion, avocado, tomato and peanut butter. It's a protein-rich, high-calorie meal.
"It should be on the menu," Paul said.
"The chef is adding it right now," I said.