Down in the Dumps for Jokes
NH comedian Jimmy Dunn found an audience during the shutdown – Mikey at the town dump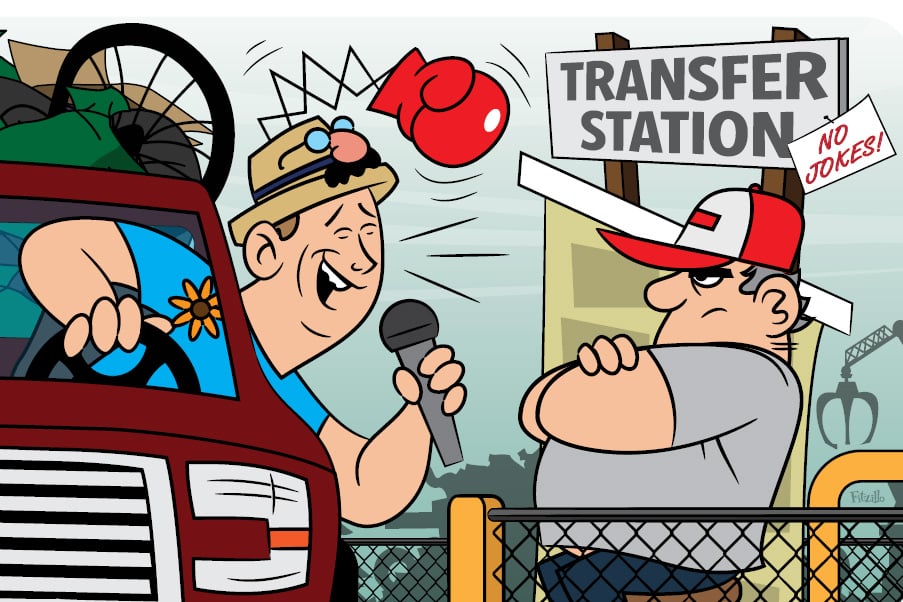 The comedy world is finally coming back to life, and I'm ready to go!
Despite the fact that the pandemic has kept me from being on a stage for over a year, I'm armed with some killer new material that's been tested, honed and thumbs-up approved.
How, you may ask, am I so confident in this new stuff when I've never tried it on a stage? Did I test it doing Zoom shows? I'd rather perform to the backup camera on my truck. Did I workshop it on the phone with fellow comedians?
"Hey, Tony, is this funny?"
Dial tone.
"Tony? Tony? Tony?"
I could run the new ideas by my wife, but she'll just tell me to ask Tony.
No open mics. No easy Elks club or soccer fundraiser gigs where you can slip in a new chunk of untested material without risk. So, I found a new test audience. An audience that's honest. An audience that's happy to help. An audience that's starving for some laughs. For over a year now, I've been testing my new jokes on the guy who runs the gate at the dump.
His name is Mikey, and he spends all day sitting in a hut asking town residents, "What ya got?"
Almost everyone answers "trash," and Mikey waves them through, but I like to keep him sharp by responding with something funny like, "the paintings from the Gardiner Museum heist" or "election ballots" or "the New York Jets."
Once I get my captive audience laughing with a sharp opener, I hit him with my new stuff — the Mac and Cheese chunk, the weed-whacker incident or how slowly detectives open envelopes in Netflix crime documentaries.
And if Mikey laughs, I know I've got something. See, he feels no obligation to fake it, like those Zoomheads. He hasn't been drinking (probably) like those Elks club crowds. He's literally sitting all day in a pile of crap, so If I can get him to laugh, I know I've got a winner. And if he doesn't laugh, the joke is garbage and goes in the left dumpster at the top of the hill.
So, once a week or so for the last year, I've been tossing a few bags of trash and some broken down Amazon boxes in the back of my truck and heading up to the open Mikey at the dump. I'll try a few new bits, hoping to tickle Mikey's funny bone, and if I strike out, I can always go to the street jokes.
"… I'm not Willie Nelson! See ya next week, Mikey."
Jimmy Dunn is bringing the comedy show to you this summer! Backyard shows, workday events, social clubs, restaurant patios, yachts or dinghies. Check out jimmydunn.com and host a show.