Christmas Lights Displays
If you're the type to pack the family into the car for a lights tour around the neighborhood, then you might be interested in these dazzling displays.
Clark Griswold would be right at home at these displays around the state. Here are some suggestions for places that are really into celebrating Christmas cheer with electricity.
---
The Gift of Lights
Where: New Hampshire Motor Speedway, 1122 Route 106, Loudon
When: November 26, 2020 through January 3, 2021, open Sun-Thurs from 4:30–9 p.m. and Fri-Sat from 4:30-10 p.m.
More information
This year, the 2.5-mile drive-thru light show is even brighter with 3.5 million lights, a new 150-foot RGB Tunnel of Lights and new scenes including the Three Little Pigs, Goldilocks, Mother Goose, Jack Be Nimble, Deer Beach Vacation and a package wrapping machine. Over 650 hours go in to setting up more than 520 displays and 80 different scenes each year, which also includes the popular 12 Days of Christmas scene and the fan-favorite 130-foot long infield entrance and exit Tunnels of Lights made up of over 25,000 lights.
---
Santa's Christmas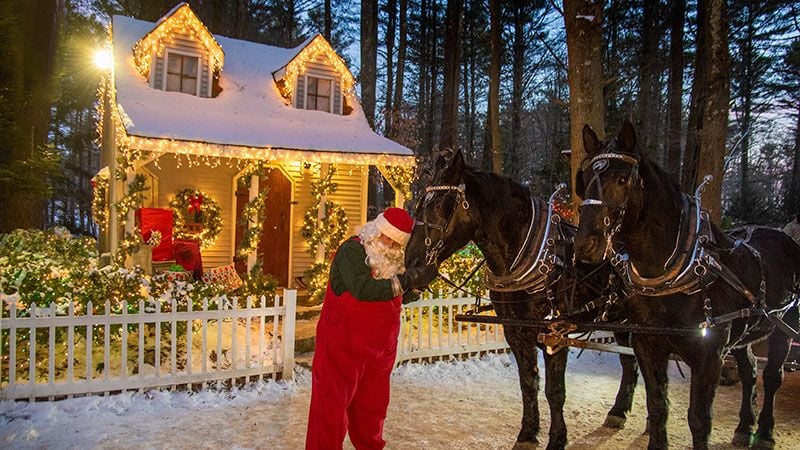 Where: Charmingfare Farm, 774 High St., Candia
2020 Dates: December 11, 12, 13, 18, 19 and 20
Not only can you enjoy beautiful lighted Christmas displays when you visit Charmingfare Farm this year, but you can partake in their Santa's Christmas package and visit their live animal nativity scene, Mrs. Claus' bakery and more.
See their website for more information.
---
Next Level Neighborhood Displays
There are some private residences that go all-in when it comes to channeling "Christmas Vacation."
Hudson Christmas
In Hudson, drive by 75 Pelham Rd. You can find updates on Facebook.
Mitchell's Magic Christmas
Combining high-tech and traditional holiday displays, this 50,000-light extravaganza is computer-controlled and synchronized to music. The lights go on Black Friday. Located at 16 Francis St., Claremont. See the website for more information and photos from previous years.
Lights on Legacy Drive
Visit 75 Legacy Drive in Manchester to see this festive display. Check out Facebook for more updates.
Lamprey Village Lights
In Epping, drive through Lamprey Village Dr. Find updates on Facebook.
The Daly Family's Festival of Lights
Come and view this magnificent display of lights set to 26 minutes of music. This year's playlist includes songs like "Into the Unknown," "It's Beginning To Look A Lot Like Christmas" and more. Located at 51 Pond Ln., Fremont. See Facebook for more information.
Holt Family Christmas
Don't miss out on the opportunity to drive through 118 Marathon Way in Manchester to see their dazzling display. Check out Facebook for updates.
Christmas in the Kings
This animated Christmas light display is set to 30 minutes of music. Located at 3 King Edward Dr., Londonderry. See Facebook for updates.
Jobin Christmas Lights
Visit this magnificent display at 8 Stephen Drive in Bedford that is adorned in over 100,000 lights. Check out Facebook for updates.
Callaway Christmas Light Show
In Goffstown, drive by 15 Pasture Dr. You can find updates on Facebook.
Belgrade Street Christmas
Looking to soak up some Christmas cheer this year? Head to Belgrade Street in Manchester. Check out updates on Facebook.
An Otterson Christmas
Visit 37 Otterson Road in Londonderry to see this synchronized light show. See Facebook for updates.