Christmas Lights Displays
If you're the type to pack the family into the car for a lights tour around the neighborhood, then you might be interested in these dazzling displays
Clark Griswold would be right at home at these Granite State displays. Here are some suggestions for places that light up Christmas with cheer with electricity.
---
The Gift of Lights
Where: New Hampshire Motor Speedway, 1122 Route 106, Loudon
When: November 24, 2022 through January 1, 2023. Open 4:30 to 9 p.m. Sunday to Thursday and 4:30 to 10 p.m. Friday and Saturday.
More information
This year, the 2.5-mile drive-thru light show is even brighter with more than 3.5 million lights, a new 150-foot RGB Tunnel of Lights and new scenes including the 12 Days of Christmas and much more. Over 650 hours go in to setting up more than 520 displays and 80 different scenes each year, which also include the fan-favorite 130-foot long infield entrance and Tunnels of Lights exit made up of over 25,000 lights.
---
LaBelle Lights
Where: The Links at LaBelle Winery, 14 Route 111, Derry
When: November 16, 2022 through January 15, 2023. Open 4:30 to 9 p.m. Thursday through Sunday.
More information
Experience winter like never before at LaBelle Winery's inaugural light show. The outdoor light displays are located on The Links at LaBelle Winery golf course and are designed for guests of all ages to walk along casually via a designated path. The walk will take approximately 20 to 30 minutes.
Don't miss special theme nights on Fridays in December, including Crazy Christmas hats on December 2, Christmas Pajamas on December 16, Best Santa Costume on December 23 and Winterfest on January 14 and 15.
---
Santa's Christmas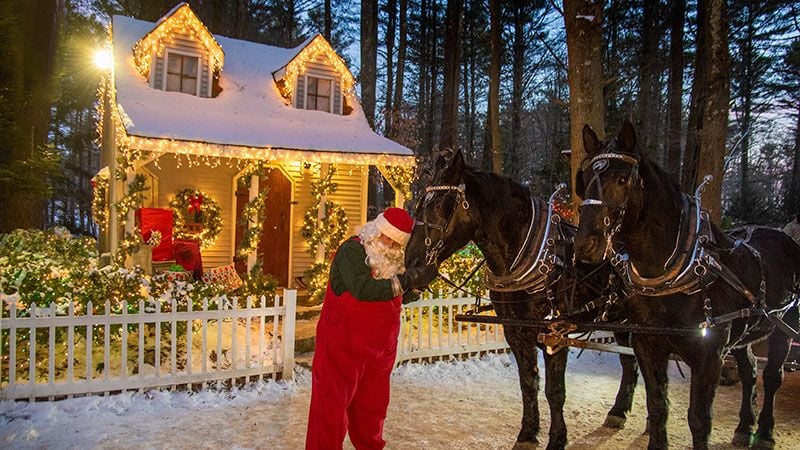 Where: Charmingfare Farm, 774 High St., Candia
When: December 3, 4, 9, 10, 11, 16, 17, 18, 21, 22, 23 and 24
More information
Not only can you enjoy beautiful lighted Christmas displays when you visit Charmingfare Farm this year, but you can partake in their Santa's Christmas package and visit their live animal nativity scene, Mrs. Claus' bakery and more. Their Santa's Christmas package includes a horse-drawn or vis-a-vis ride ranging in price from $279 to $349 and can accommodate four to 10 passengers. Tickets must be purchased online.
---
Next Level Neighborhood Displays
There are some private residences that go all-in when it comes to channeling "Christmas Vacation."
Whitney & Nic's Winter WonderLand
Located at 13 Countryside Dr. in Nashua, this brilliant show lights up the night from 4:30 to 10 p.m. Check them out on Facebook. NO LIGHTS FOR THE 2022 SEASON.
Hudson Christmas
In Hudson, drive by 75 Pelham Rd. You can find updates on Facebook.
Lights on Legacy Drive
Visit 75 Legacy Dr. in Manchester to see this festive display. Check out Facebook for more updates. NO LIGHTS FOR THE 2022 SEASON.
Lamprey Village Lights
In Epping, drive through Lamprey Village Drive. Find updates on Facebook.
The Daly Family's Festival of Lights
Come and view this magnificent display of lights set to 18 minutes of music at 51 Pond Ln., Fremont. This year's playlist includes songs by the Pentatonix and more. See Facebook for more information.
Holt Family Christmas
Don't miss out on the opportunity to drive through 118 Marathon Way in Manchester to see their dazzling display. Check out Facebook for updates.
Christmas in the Kings
This animated Christmas light display is set to 30 minutes of music at 3 King Edward Dr., Londonderry, operating from 4:30 to 10 p.m. every day. See Facebook for updates.
Jobin Christmas Lights
Visit this magnificent display at 8 Stephen Dr. in Bedford adorned with over 100,000 lights. Check out Facebook for updates.
Callaway Christmas Light Show
In Goffstown, drive by 15 Pasture Dr. Their lights run from 4:30 to 10 p.m. every night until January 1. You can find updates on Facebook.
An Otterson Christmas
Visit 37 Otterson Rd. in Londonderry to see this synchronized light show. See Facebook for updates.
Belgrade Street Christmas
Looking to soak up some Christmas cheer this year? Head to Belgrade Street in Manchester. The show takes place 5 to 9:30 p.m. Sunday through Thursday and 5 to 10 p.m. Friday and Saturday. Check out updates on Facebook.