BubbleMania! Brings Science, Art and Comedy to the SEE Science Center
Full-time re-opening coming in June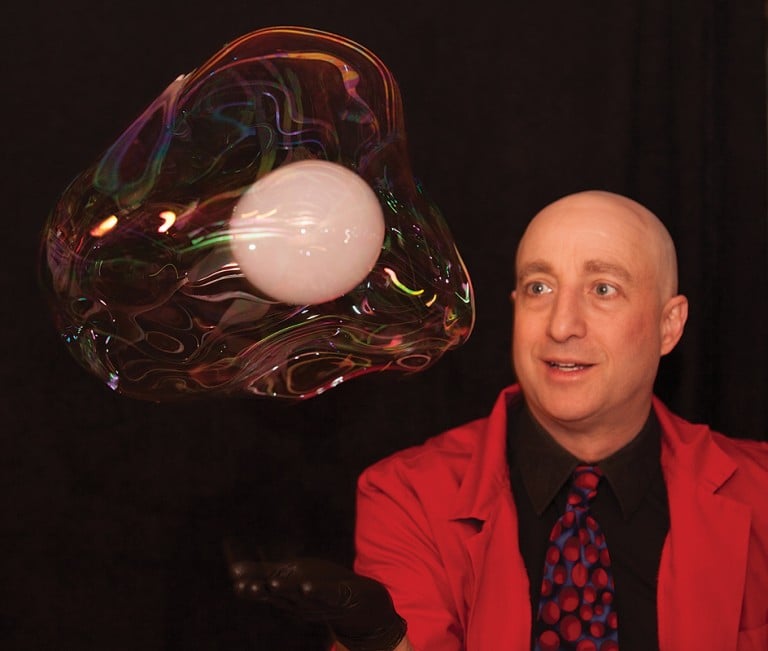 When is a bubble more than just a translucent sphere destined to slip along the drafts for a few seconds before disappearing in a soft pop? When Casey Carle is creating it.
Then it can be a spaceship, volcano, column, crystal ball or a mass of foam.
Carle is part scientist, part artist and part entertainer. He's also a renowned bubble expert who can do eye-popping things with a little soapy water and air.
Carle (who describes himself as "not your average maniac") will be bringing his unique form of entertainment to the SEE Science Center in Manchester as it reopens this summer. Starting June 21, the SEE Science Center will be open seven days a week, and to celebrate, it will feature BubbleMania! — a science, art and comedy show created and performed by Carle.
The Center will open daily from 10 a.m. to 1 p.m., close for an hour for deep cleaning, and then re-open from 2-5 p.m. Shows will be held in each session.
"He's amazing — world class," says SEE Science Center Design Coordinator Adele Maurier. "He's an expert at what he does, and he's a Ringling-trained performer, so he brings the pizazz as well as the skill."
During BubbleMania!, Carle creates a flying bubble spacecraft, a square bubble and bubbles bigger than his head and longer than he can reach. The award-winning educator/entertainer's expertise in bubble-ology — it's a thing — is based in the scientific knowledge, formulas and physics of air, soap and pressure, and how all the elements interact.
Shows will be held daily during both sessions that SEE will be open. The show is $5 per person age 3 and up plus $9 admission ($14 per person total). Children under 3 are free. (SEE members just pay $5 and enjoy free admission all year long). Free raffles will be held daily.
According to Carle, "Pre-schoolers will enjoy it, but this program was developed for and aimed at kids 5-to-12 and adults 20-to-120 (give or take a few years)."
Tickets will go on sale for this special week-long celebration beginning on May 21st on the SEE website.
"We hope people are excited to learn throughout the summer, enjoy informal science learning, and get out and explore science here at SEE Science Center and all around them all summer long," Maurier says.