The Marvelous Tomato-Apple of Muster Field Farm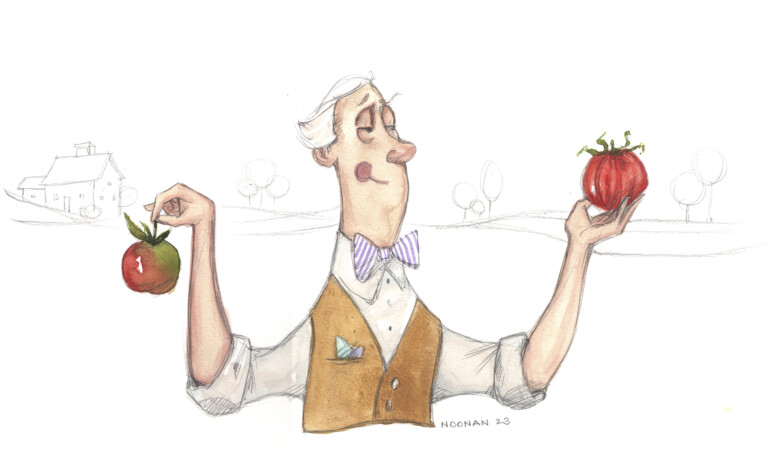 Each fall, Muster Field Farm Museum in North Sutton celebrates Harvest Day with music, crafts, produce, soup and so forth. If you haven't visited Muster Field Farm, you oughta. 
A little history: Matthew Harvey settled on the farm in 1772, and there he stayed, as did his descendants, for 150 years. In the 1940s, Bob Bristol's family bought it, and there they stayed. Hardy souls; deep roots. Once you find a good spot, why move? As the old-timer said to the developer when offered millions for his patch, "If I sold my house, where would I live?" 
Bob stipulated in his will that Muster Field continue as a working farm in perpetuity. And so it has: 250 acres of fields, gardens, woods and trails, open year-round. A Civil War encampment each summer recalls the musters from which it takes its name. On Ice Day each January, blocks are cut from Kezar Lake and stored in the ice house until needed come hot weather. Before refrigerators, trainloads of New Hampshire ice traveled south to fill the ice boxes of city folks in Boston and such places. Those same trains (it's said) returned stacked with another economic boon: tourists. 
In January 2010, it was my honor to swap stories at a gathering of museum volunteers. It was cold. Wicked windy. Brutal. But folks showed up anyway. Naturally, the talk turned to the late founder, Bob Bristol. Since Bob's farmhouse, vintage furniture intact, was open to the public, caretakers Carlton Bradford and Jack Noon decided to move one ratty old chair — Bob's favorite, it seems — from the kitchen to the attic. (They didn't throw it away, of course; Yankees don't.)
When the farm manager noticed the chair's absence, he was alarmed. "Oh no!" he said. 
"Where's Bob gonna sit?"
"I hope on his heavenly throne," Carton replied.
Carlton Bradford has since ascended to his own heavenly throne — he died this March at age 97. But at our story session in 2010, he told about a judge from Philadelphia, who was rightly proud of his summer home in Sutton, Prospect House. On warm days, he'd invite locals to sit awhile on his verandah, enjoy a cool beverage and admire his orchard.
According to Carlton, "the boys in town" (Carlton didn't admit to being one of them) played a trick on the judge. They sneaked into the orchard at night and tied a Red Globe tomato with a bit of straw to a branch of the judge's favorite apple tree.
The next day on the verandah enjoying a cool beverage, one of the boys called the judge's attention to the tomato-apple. The judge was so excited, he summoned his wife for a viewing. 
Meanwhile in the village, another of the boys — the school-bus driver — spread the word about the judge's tomato-apple and gave a bunch of locals a bus ride to Prospect House. "We've come to see the tomato-apple," they said as they disembarked.
There was nothing for the judge to do but invite the whole gang onto the verandah for cool beverages.
Meanwhile, another of the boys put an article in the local paper about the judge's rare tomato-apple. 
Everybody had a good laugh. 
Until a few weeks later when a chauffeur- driven limousine pulled up at the judge's house, and a fine Boston lady with an interest in horticulture emerged. She'd read the article and wished to discuss it with the judge. Seems she'd always been interested in crossing tomatoes and apples.  
"How did you accomplish it?" she asked.
"Madam," the judge said stone-faced, "It wasn't easy."