The Answer: Who Is Sarah Cahalan
Former New Hampshire Magazine editor to appear on "Jeopardy!" this April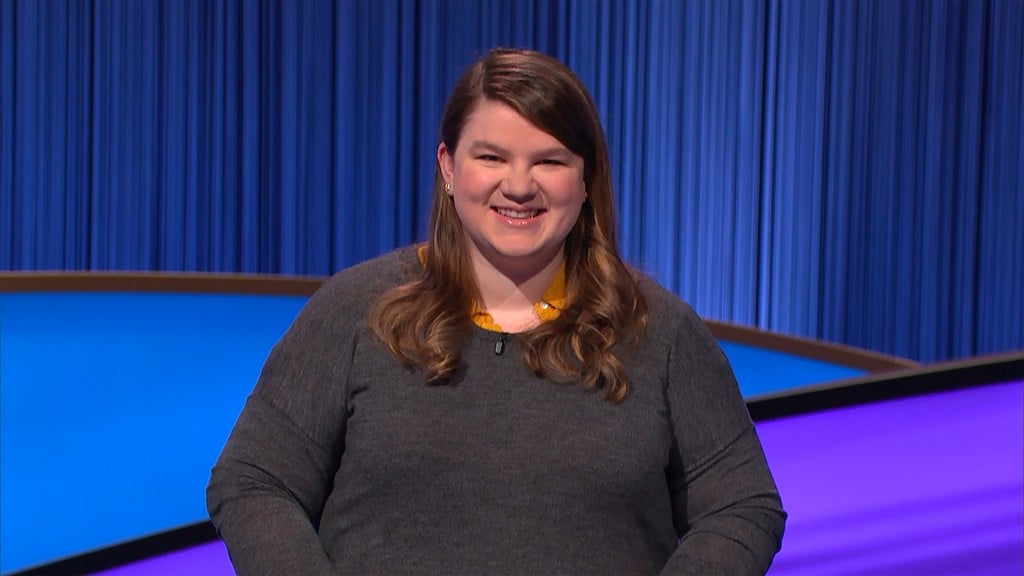 Readers who remember all the way back to around 2016 might recall our former associate editor, Sarah Cahalan. Sarah's since gone on to accomplish many other things, including earning a master's degree from Northwestern's Medill School of Journalism and, oh, winning a little thing called the Pulitzer Prize as a member of the New York Times' Covid-19 tracking team. Although those are certainly impressive resumé items, getting to be on the legendary "Jeopardy!" might be the coolest one.
Sarah's episode will air Monday, April 4, and while we can't see into the future to tell you how she does, if we were betting people, we'd say really well. Various responses around the office to the news included "makes sense," "yeah, not surprised" and "she might be the host already." Sarah says her goals were a little less lofty than securing hosting duties — she mainly wanted to get to "Final Jeopardy!" and to "not look like a complete moron." She assures us she was successful on both fronts. (Again, no surprise here.)
"I always felt I'd be OK at 'Jeopardy' if I just tried it," says Sarah, adding that unlike some contestants, it "wasn't my life's dream." When boredom inevitably struck during quarantine, she took the online test and figured she'd never hear back. "They don't tell you how well you did or even what the metric is," she says, adding that while there are plenty of theories online about how many you need to get right, no one knows for sure.
If you do well enough to get your name in the hat, you'll hear back within a year and a half. Three months after taking the test, Sarah was invited to the second round of the process. This time, the test was via Zoom with a proctor to prove she didn't cheat.
"The second time I was confident I passed," she says. "I got very lucky – there were questions about Taylor Swift and Sylvia Plath." But still, she figured that was the end. The clock reset to a year and a half. She was told even Ken Jennings had to try out more than once.
Then she was contacted for a final audition. "I wrote it off as that was a cool thing I did this year, but I'll never hear from them again. And not being a superfan, I wasn't sure I'd start the process all over again."
On January 3, she got the call – could she be in Los Angeles in three weeks? She strictly quarantined, and yes, studied. She made 600 flash cards, some for things she knew well but "wanted to get exactly right," and some for areas she didn't know well "but would be embarrassed to get wrong," hence a flash card for every American professional sports team. "I didn't want to get a Double Jeopardy and not know the answer was the Chicago Bulls" (she lives in Chicago), she says. She also watched old episodes and used the fan-created J! Archive, a compilation of every episode's clues, answers, contestants, scores and winners.
She watched a day of filming as an alternate, mingling with other contestants – a Juilliard trained bassoonist, a rabbinical student, a chef who appeared on "Chopped" – and hanging out in the Covid-era "green room," aka the set of "Wheel of Fortune." Sadly, they didn't get to spin the wheel (it was covered).
But, as we know, she did get to compete. "It was awesome. It's just so cool to be on this show you've seen forever, and get to be there to watch it get made – that's cool by itself, even if you make a complete fool of yourself," she says. (She didn't.)
Besides general fear of freezing up or blowing a Chicago sports question, Amy Schneider was still appearing when Sarah flew out to L.A. "If she was on a Ken Jennings streak," Sarah says, then it was possible she could still be taping new episodes when Sarah arrived. "There's a chance I get there and she steam rolls me," she says.
The night she arrived, as Sarah watched "Jeopardy" in her hotel room, Amy's 40-game streak came to an end. "I thought, 'thank God, I don't have to compete against the GOAT," Sarah says.
For one, Amy was clearly incredibly smart. Plus, she had game upon game to learn how to use the buzzer. "The buzzer makes all the difference," Sarah says. "You could know the answers to every question on the board but a first-time player is not going to get to answer all those questions. If you're up against a super champ, and she's been playing with the buzzer for weeks …" well, you'd be in some trouble.
Although Sarah can't give us any major spoilers, a few dropped hints indicate she feels good about her experience on the beloved game show. We also wouldn't be surprised if she's completely misdirecting us and she's still on some crazy streak. No matter what, we're looking forward to tuning in on Monday.