Navigating Northfield
A historic visit to a quaint town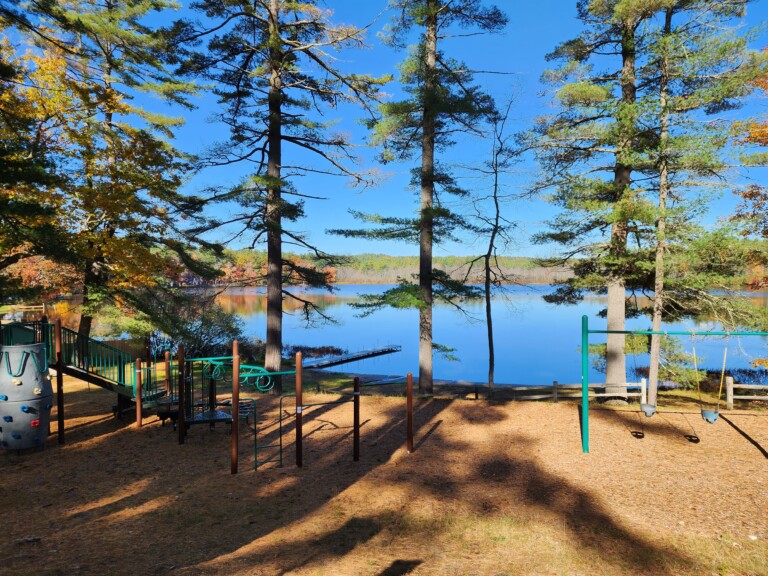 Once simply known as the "north fields of Canterbury," Northfield got its own charter in 1780. Agriculture was a vital part of its early economy, and by the mid-19th century, water-powered mills and manufacturing buildings lined the Winnipesaukee River, which acts as a natural border with Tilton.
While it still has a curious, and often confusing relationship, with the neighboring town (like sharing a zip code and schools, yet occupying separate counties), Northfield has plenty to offer both visitors and those of us who call it home.
Ironically, Northfield's most iconic landmark, the Tilton Memorial Arch, is commonly assumed to be in Tilton because of its name. Built by Charles Tilton in 1882, this massive structure was constructed on the remains of an Abenaki fort. Made of Concord granite, it looms 55 feet tall and holds a mausoleum originally intended to be his own. While Mr. Tilton ended up being buried across the river in the town bearing his name — he had expected the two towns to eventually merge — Northfield was left with a stunning monument inspired by Rome's Arch of Titus.
Today, it serves as a beautiful park that's maintained by the town. It's a popular spot for picnics and watching the fireworks on Old Home Day, and it makes a perfect backdrop for photos. It would probably irk Charles to know that his arch actually symbolizes the unity between these towns — illustrated by a years-long tradition of Winnisquam High School students gathering here each spring for their senior prom photos, representing Northfield, Sanbornton and Tilton as one.
If you explore just a little beyond the monument, you'll find a granite-supported entrance to a small underground space, which appears to continue into the hillside. The most practical (and likely) theory is that it held the piping that fed gas lamps that illuminated the arch at night, now powered by electricity. More fanciful ideas include speculation that the tunnels were once used for smuggling during Prohibition, or even that it's home to a network of crypts.
Arch Hill is a good place to start a short walking tour to spot a few of Northfield's most significant historic homes and structures. Within view of the park is the Chase-Hill House, a grand Gothic Revival home built in 1856, which is now an assisted-living facility.
Cemetery enthusiasts will love exploring Arch Hill Cemetery, which occupies a sizeable strip of land along Arch Park. It is home to the final resting place of several prominent figures from Northfield's earliest days. The oldest graves are nearest the road, and a beautiful iron gate graces the front.
The Northfield Town Hall, which is on the National Register of Historic Places, sits at 21 Summer St., at the bottom of the cemetery. Originally built as a church in 1828, this brick Victorian-style building has served as the town municipal building since 1873. Just next door, you can admire the Italianate Samuel B. Rogers House (1857) with its distinctive brick façade.
Just across the street from the cemetery is the Archibald Clark House (c. 1828), a Cape with its original barn, and down the hill at the junction of Summer and Bay Streets you will find the former Chase Tavern, which was built as early as the 1790s. All of these are now private residences, but the neighborhood is a lovely one for a stroll. If you don't have time for the full historic walking tour, make a loop up Bay to Gale Avenue and Hill Street, which meets back up with Summer.
Another historic structure that also serves as an important community space is the Hall Memorial Library on Park Street. Serving the communities of both Northfield and Tilton, the library hosts weekly meetups for those interested in everything from board games to gardening to sewing and fiber arts, as well as monthly events, like a D&D campaign, that are open to the public.
Designed in Richardson Romanesque style, it was finished in 1886 and opened its doors in 1887, and it has been recognized on the National Register of Historic Places since 1978. Next door, the recently retired Union School is a nice example of late Victorian design that was begun in 1899.
Across the street is the former Boston, Concord and Montreal Railroad depot. The mid-19th century Freight House still stands, and is now restored and used as a function hall. It's surrounded by an assortment of vintage train cars, which include both passenger and freight cars once used by the Boston and Maine Railroad. While exploring, be aware that the track is still active as part of the Merrimack Valley Railroad, which sees mostly tourist traffic.
This is also the start of the Northfield section of the Winnipesaukee River Trail, which extends about 5 miles to Cross Mill Road near the Franklin border. Just a short walk from that junction is a popular put-in spot for kayakers. If you are looking for calmer water, head over to Glines Park on Sandogardy Pond, where you will find a small beach and dock as well as a playground.
For something more challenging, Highland Mountain Bike Park offers chairlift- accessed trails for all skill levels as well as a basecamp area with two skills parks, two jump areas and the Slopestyle Course. You can rent bikes and helmets, and they also offer a special orientation package that includes equipment, instruction and a lift ticket. After a day on the trails, riders stop in at the basecamp's Highland Pub to refuel — they are especially known for their craft pizzas and locally brewed beers.
Although he died in 2015 at the age of 91, no story about Northfield could be complete without mention of the town's most beloved resident, Bert Southwick. Known as the "Eggman," he delivered his farm-fresh eggs using a cart pulled by his horses every Friday in any weather since 1937. While an injury forced him to deliver by truck starting in 2002, he was in business as the Eggman for a total of over 75 years.
He embodied the epitome of the frugal New England farmer, hardy and determined to live his life simply. Bert's memory lives on for all Northfield residents, not just those of us who had the pleasure of knowing him. In 1995, local kids voted to name their new elementary school after him, and his old cart can still be found on the property, protected by a shelter built by a local Eagle Scout.