Fall for Golf
The perfect season is a swing away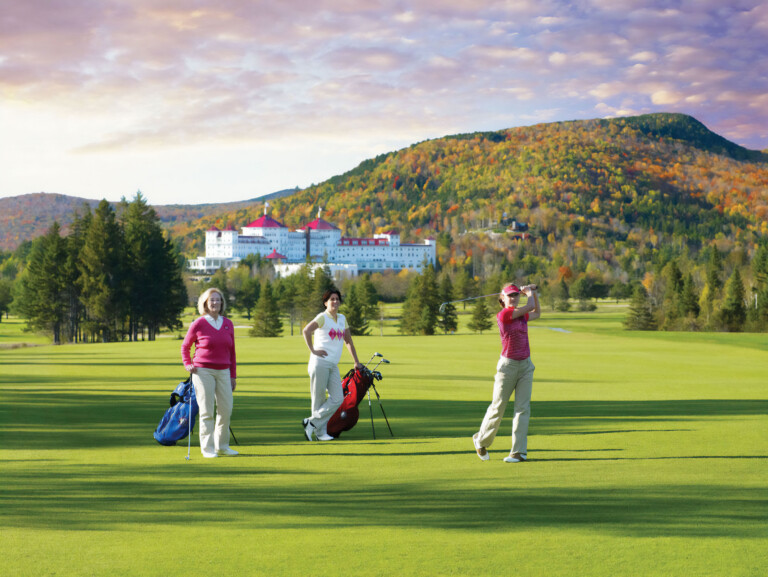 Ah, fall. Such a magnificent time of the year. The months that follow summer are unquestionably my favorite, with more manageable temperatures and a riot of color, especially in New Hampshire. For golfers, even a duffer like me, autumn offers a next-level experience, with so many courses located in visually stunning areas.
If you've got four hours, you've got time to squeeze in a round of 18. I still hope that Les Otten will be able to pull off his long-promised renovation of The Balsams resort in Dixville Notch, and its legendary Donald Ross golf course. In the meantime, I'm content to "settle" for another grand hotel tract.
There are few, if any, resorts that can match the spectacular setting of the historic Omni Mount Washington Resort, nestled at the western base of the Presidential Range. The venue is so picture perfect that it would be a travesty if the golfing experience didn't measure up.
Over the past two decades, the hotel's ballyhooed championship 18-hole course also designed by Ross, the iconic Scottish architect, has undergone an exhaustive renovation under the caring eye of acclaimed architect Brian Silva.
The result is a born-again, 7,004-yard classic that will test your skill. For a family outing, check out the resort's nine-hole Mount Pleasant course at the front of the property, which originally opened in 1895.
Further south in Thornton, Owl's Nest Resort and Golf Course is a beauty, convenient to both Waterville Valley and Lincoln. The 6,819-yard tract — the only New Hampshire course designed by the all-time great Jack Nicklaus — has been called the best value in the Northeast, with great staff, a great course and outstanding vistas. The real challenge for golfers at Owl's Nest is staying focused on their game while enveloped by those expansive mountain views.
The North Conway Country Club was first established in 1895 as Kearsage Golf Links, located by the Saco River, and its reputation has grown steadily since. The view of the opening tee shot, looking down into the Mount Washington Valley at Cathedral Ledge, White Horse Ledge and the Moat Mountains, is jaw-dropping gorgeous. The par 72-tract is generally considered one of the best in the state, with high marks for maintenance.
The Maplewood Golf Course in Bethlehem is a historic property that hearkens back to the heyday of railroad travel, with a deceptively challenging, renovated Donald Ross course to match. The 18-hole, par-72 White Mountain Country Club (newly rebranded Owl's Nest Vineyard Course) in Ashland, designed by renowned golf course architect Geoffrey Cornish, is nestled along the Pemigewassett River.
The user-friendly layout features wide, manicured fairways, strategically placed bunkers and soft velvet, bent grass greens, offering golfers of all abilities a sublime experience in a peaceful, natural setting. A half-hour away, the picturesque Pheasant Ridge Golf Club in Gilford incorporates fabulous lake and mountain views as it winds through the foothills of Belknap Mountain, 400 feet above Lake Winnipesaukee.
New Hampshire is also home to several wonderful seaside courses, including the private Wentworth by the Sea Country Club in Newcastle and the Abenaqui Country Club in North Hampton. I prefer the less exclusive Portsmouth Country Club. A member-owned club founded in 1901, and bordering the naturally striking Great Bay, this Robert Trent Jones course is consistently ranked as one of the best in New England. Translation? You also get to grapple with the unpredictable winds that sweep in off the bay, which give this gorgeous tract its distinctive flare.
Still, if fall has one shortcoming, it's the season's shorter days. I guess that's Mother Nature's way of saying, "You can't have it all." But you can still have a great golfing experience. If time is tight, golfers can choose from a number of top-notch, nine-hole courses around the region.
Any list of memorable nine-hole courses in the Granite State would be incomplete with including the Mountain View Grand Golf Course at the stately Mountain View Grand Resort & Spa in Whitefield. Originally built in 1900 and redesigned in 1938 by architect Ralph Barton, the historic course offers challenging play and exceptional panoramic mountain views (and matching views of the sprawling hotel).
Measuring out at just over 3,000 yards, the dramatic par-36 Hale's Location Golf Course at the foot of White Horse Ledge, beside the White Mountain Hotel & Resort in North Conway, is a worthy challenge. While most of the nine holes appear fairly straightforward, with meticulously maintained, tree-line fairways, a bevy of strategically place sand traps put a premium on shot accuracy. Plus, it's easy to get distracted by some of the most impressive mountain scenery to be found anywhere in northern New England.
The nine-hole layout at the Den Brae Golf Course in Sanbornton delivers 2,959 yards from the longest tees, offering a test of shot-making ability to match its woodland setting. Originally the Den Brae dairy farm, construction started in 1957, and the course opened in August of 1958. Located in the Lakes Region, Den Brae is now a third-generation, family-owned golf course (the Craig family), in the heart of New Hampshire's Lakes Region.
Designed by celebrated architects Wayne Stiles and John Van Kleek, the Hooper Golf Club in Walpole first opened in 1927. Known for building low-cost but entertaining courses, Stiles was a prolific Golden Age designer who teamed with Van Kleek in 1923. Together, they built dozens of courses, predominantly in New England. Set in remote countryside in central New Hampshire, Hooper is a terrific example of the architects' partnership, with an entertaining variety of holes and stunning surroundings. Perfect for a fall outing.
Honorable Mentions (18 holes)
Bretwood Golf Course in Keene
bretwoodgc.com
Canterbury Woods Country Club in Canterbury
canterburywoodscc.com
Country Club of New Hampshire in North Sutton
countryclubofnh.com
Nippo Lake Golf Club in Barrington
nippolake.com
The Shattuck Golf Club in Jaffrey
shattuckgolf.com
Wentworth Golf Club in Jackson
wentworthgolf.com
Windham Country Club in Windham
windhamcc.com
Honorable Mentions (9 holes)
Colebrook Country Club in Colebrook
colebrookcc.com
Eagle Mountain in Jackson
eaglemt.com
Hoodkroft Country Club in Derry
hoodkroftcc.com
Oak Hill Golf Course in Meredith
oakhillgc.com
Sugar Hill Golf Club in Sugar Hill
thesunsethillhouse.com
Waterville Valley Golf Course in Waterville Valley
wvclubhouse.com