The Secret Lives of Gulls: Citizen Science with Gulls of Appledore
When:
September 12, 2019 @ 6:00 pm – 7:30 pm
2019-09-12T18:00:00-04:00
2019-09-12T19:30:00-04:00
Where:
Creek Farm
400 Little Harbor Rd
Portsmouth, NH 03801
USA

Contact:
Society for the Protection of New Hampshire Forests
(603) 224-9945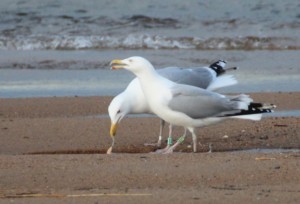 Come learn about the Gulls of Appledore Project with a talk about "The Secret Lives of Gulls: Insights from over 15 years of gull study and banding on Appledore Island" with Sarah Courchesne– who lives in the seacoast area and is an Associate Professor of Natural Sciences at Northern Essex Community College in Massachusetts. She joined the Gulls of Appledore project after graduating veterinary school, and now co-leads it. This research is part of a citizen science effort that relies on people like you–birders, beachgoers, and casual observers, to report banded birds. Join us on Thursday September 12th and you'll learn about…
Where and when our gulls nest, how the population is doing overall, and for some gulls, how they make their living. Other individual gulls remain mysterious to us, rarely, or never seen by human eyes.
High tech data, including maps generated by GPS units attached to several Appledore gulls, and some data on how the gull populations have changed over the past 15 years.
The invaluable contributions of the public. Without sightings, photos and reports of our gulls from people in the eastern half of the US, we wouldn't know a fraction about this fascinating population.
Come find out what the Gulls of Appledore have been up to, and how you can contribute to the data. Lend us your ears for the evening, and then, we hope, your eyes for a lifetime of spotting gulls.
Comments
comments