The Gallery at WREN Celebrates First Friday With the Openings of "ICONS"
When:
2020-03-26T00:00:00-04:00
2020-03-27T00:00:00-04:00
Where:
Gallery at WREN
2011 Main St
Bethlehem, NH 03574
USA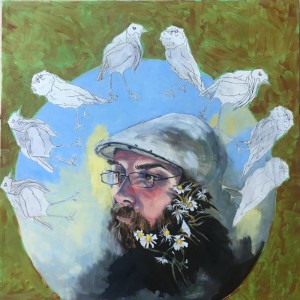 On Friday, March 6 from 5-7 p.m., the Gallery at WREN celebrates the opening reception of "ICONS," featuring the work of Marcia Wood Mertinooke and Kristine Lingle. The "ICONS" exhibition explores the various meanings and roles the word can represent; each artist has their own way of interpreting and expressing the meaning of an icon. See "ICONS" on display in The Gallery at WREN from Friday, March 6 – Tuesday, March 31, 2020.
Marcia Wood Mertinooke is an artist living and working in Goffstown, New Hampshire. She received her BA in studio art from the University of New Hampshire, and was a student at the Chautauqua Institution in Chautauqua, New York. She was a founding member of the Monastery Artist Collective in Manchester, New Hampshire, and is a member of the New Hampshire Women's Caucus for Art. To Marcia, icons honor and elevate what is important to us. By combining the senses of realism with emotional expressionism, each of Marcia's works are a version of reality interpreted and invented.
Kristine Lingle is a painter, collage artist and art teacher currently working for a fine craft gallery in the White Mountains of New Hampshire. She creates her work in a sunny studio inside a cottage she shares with her husband and two tabby cats. For Kristine, icon paintings strike us because they represent the frontal view of a figure, which show a direct relationship with the viewer and the icon being depicted.
This exhibit opens on Friday, March 6, with a wine and cheese reception, and runs through Tuesday, March 31. The Gallery at WREN is open weekdays from 9 a.m. to 5 p.m. and weekends 11 a.m. to 5 p.m. For more information, please call Local Works Marketplace, WREN's retail market, at (603) 869-3100.
Comments
comments