Prints by Nicole Eisenman at SNHU's McIninch Art Gallery
When:
March 27, 2020 @ 10:00 am – 3:00 pm
2020-03-27T10:00:00-04:00
2020-03-27T15:00:00-04:00
Where:
SNHU's McIninch Art Gallery
2500 N River Rd
Manchester, NH 03106
USA

Contact:
Debbie Disston
(603) 629-4622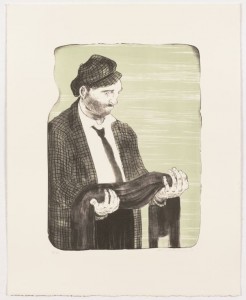 The McIninch Art Gallery, located in Robert Frost Hall at Southern New Hampshire University, presents prints by Nicole Eisenman from March 5 through April 4. There will be an opening reception on Thursday March 19 at 5 p.m. This exhibition is free and open to the public.
In August of 2011, the contemporary painter Nicole Eisenman locked her paints up, as she tells it, for a period of time and explored the nature of printmaking, specifically, mono print, woodcut, etching and lithography. She mined the collection of the Metropolitan Museum and reinterpreted some of the more famous modernists images into a contemporary tableaux. Eisenman evokes wit and sentiment to the human condition as a way to dissolve prejudices of individuals who identify in any number of ways. Her figures are part of a welcoming collective community. Eisenman's deft knowledge of historic genres and symbols allow her to weave a powerful thread throughout the various mediums she works with. Created with the help of master printer Andrew Mockler of Jungle Press, Brooklyn New York, this body of work illustrates scenes of murky bars, and late night diners, of sexual encounters, and spiritual gatherings. Eisenman employs a mixture of surrealism and expressionism, which reveals the highs and lows of the human experience. The artists creates a complex world of love, melancholy, appetite, spirituality and desire. Here she has taken all of her skill as a painter and imbued prints with the masterful stroke of a draftsman emphasizing the integral values of line, form and shape.
Nicole Eisenman is a contemporary painter, printmaker and sculptor with a wide body of figurative and often humorous work. Inspired by Social Realism and German Expressionism, Eisenman frequently refers to art history for her imagery both satirizing the bourgeois and permeating them with pathos. Her work is also autobiographical, laced with personal history and sometimes featuring stand-ins for herself or her friends. Nicole Eisenman was born in Verdun, France, and she grew up in Scarsdale, New York. She attended the Rhode Island School of Design and graduated in 1987 with a BFA.
The McIninch Art Gallery, administered by the School of Arts and Sciences at Southern New Hampshire University, provides first hand experiences in the arts through collections, exhibitions and diverse programs designed to support the university curriculum and enhance public engagement with fine art.
Please call McIninch Art Gallery Director, Debbie Disston at (603) 629-4622, e-mail m.gallery@snhu.edu or visit www.snhu.edu for additional information. The McIninch Art Gallery, which was made possible by a generous gift from the McIninch Foundation, is open Monday through Saturday from 10 a.m. to 3 p.m. and Thursday from 5 to 8 p.m. All gallery events are free and open to the public.
Comments
comments