Painting in the Garden in Exeter Art Up Front Street
When:
September 12, 2019 @ 10:00 am – 1:00 pm
2019-09-12T10:00:00-04:00
2019-09-12T13:00:00-04:00
Where:
Art Up Front Street Studios and Gallery
120 Front St
Exeter, NH 03833
USA

Contact:
Art Up Front Street
(603) 418-6286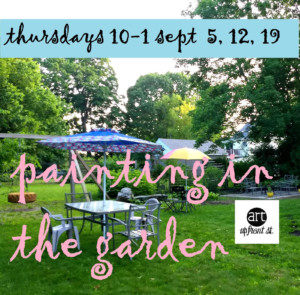 Taking place on Thursdays, September 5, 12, 19. At Art Up Front Street in Exeter. Pick one or attend all days.
This is one of our favorite easy, open-ended, no-stress things to do when the weather is nice. Sign-up by email.
Bring your materials — it can be anything you want to do: drawing, writing, collage, painting, etc.
We have chairs, tables, room for your easel, umbrellas and a canopy, if needed. Parking is on the left rear side of the studio in the back lot. Bathrooms and water are accessible.
Open to all abilities and mediums. Take a break with us to sketch, paint or watch a process. There is always tea and a little snack.
Maximum eight participants.
$5 each day.
Sin up in advance is necessary. No drop-ins, thanks.
Sign up by email to: artupfrontstreet@gmail.com
GALLERY INFORMATION:
~ Art Up Front Street is an artists' collective with nine working studio spaces in Exeter. We host two large open studios each year on the first weekends in May and November.
~ We make art and we exhibit the work of our artists, plus we welcome an occasional guest artist or collaboration with other local art groups. Our gallery has original paintings, prints, photography, abstracts, landscapes, adornments, watercolor, jewelry, stitched expressions and assemblage. We are proud to be the first artist collective in Exeter.
~ Classroom space is available to rent by other area artists and good-energy-spreaders.
~ Open five days a week. Regular hours: Tuesday and Wednesday 10 a.m.-7 p.m., plus Thursday to Saturday 10 a.m.-4 p.m. Closed holidays. For more information, go to artupfrontstreet.com. Email artupfrontstreet@gmail.com. Find us on Instagram, Facebook and Trip Advisor.
Comments
comments